Chicken Taco Salad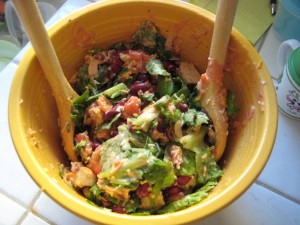 I both love and hate when it gets hot out.  I love it because it means I can pull out my sandals and T-shirts and pack away my socks and Ugg boots.  I hate it because in the afternoon my house feels like it's sitting right on top of hell fire. I love it because it means Coffee Bean ice blendeds during my morning walks. I hate it because my son is a little more cranky and/or irritable.  But one of my favorite things about hot weather – Chicken Taco Salad.
See, the last thing I want to do when it's really hot out is turn on the oven or stove.  It's already hot in the house, why should I make it worse?  So then the question becomes, what can I make that's filling and could qualify as an entree that doesn't involve turning on the rangetop?  The answer is always some sort of salad.  And this one's great! Especially if you're in the mood for Mexican.
Okay, so there is the slightest little bit of cooking involved – the chicken.  But that's easy and doesn't take too much time.  I just grab a couple boneless, skinless chicken breasts and throw them on my grilling pan.  But I only do that, if I find myself without leftovers from the roast chicken I made one or two nights prior.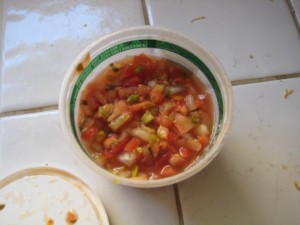 So I cut up what's left of the chicken, chop up some romaine (though any lettuce will do), pour in some fresh salsa, cut up a couple tomatoes and an avocado if I have one, pour in a can of kidney beans, sprinkle in some shredded cheese and a few tortilla chips for crunch.  Then I toss it all in Thousand Island Dressing.  The perfect salad to beat the heat especially with freshly blended Margaritas.
Chicken Taco Salad
Salad
2 boneless, skinless chicken breasts grilled
1/2 a head of romaine lettuce
2 tomatoes diced (any kind will do)
1 avocado diced
1 cup of shredded cheddar cheese
1/2 a container of fresh salsa (I use mild, but you can go as spicy as you like)
1 can of kidney beans
Thousand Island Dressing
3 Tbsp Mayonaise
2 Tbsp ketchup
1 Tbsp sweet pickle relish
Grill the chicken breasts so they're no longer pink inside – about 3 minutes per side. Take off the grill and cool.  While the chicken is cooling, chop up the lettuce, tomatoes and avocado and throw into a salad bowl.  Rinse and add the kidney beans.   Chop up the cold chicken and add it, the shredded cheese and the salsa to the salad.
In a separate bowl, whisk together the indredients for the dressing, then pour it over the salad.  Toss everything until well mixed.
For the mommies out there: What's great about this dish, is you can take a few kidney beans, a couple pieces of the diced chicken and chop it up to pea sized bites.  Add some of the shredded cheese and mix it all together in a bowl. Now your baby has the mild, finger food version of what you're having for lunch or dinner – perfect for babies ages 10 months and up who have at least a three or four teeth.
**As always, this is based on my own personal experience. Please check with your baby's pediatrician on introducing solid foods, as these suggestions may not apply to your infant. **