Creamy Tomato Soup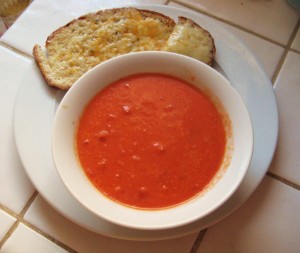 Every so often when I'm in a restaurant I'll order the soup as an appetizer.  It's rare, but it happens.  And it's usually very good.  Then I go home and I want to try my hand, but I get caught up in what I had and how yummy it was and I immediately get intimidated.  I don't know why, it just seems it'll be easier for me to crack open a can of Campbell's than take the time of creating my own version.  Well, I finally got over my fear.
A few weeks ago I started getting my "Daily Parenting Tip" from Parents magazine. They send me a little tip each day in an e-mail and included are usually some recipes.  Well, one such recipe was for tomato soup. I love tomato soup, especially when it's a bisque and I've always wanted to try and make it.  So, upon seeing this recipe, I threw caution to the wind and decided to give my soup-making skills a try. It was delicious. Even my one-year-old liked it. It was rich and thick and the chunks of tomatoes that ran through it, made it that much better.  I threw in some Ritz crackers and dinner was served.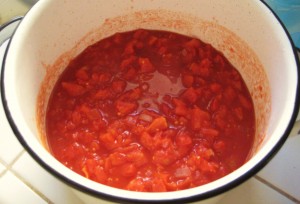 Since I threw caution to the wind, and I'm sure there will be at least a couple more chilly nights before summer is upon us, I invite you to grab some tomatoes and a pot and do the same.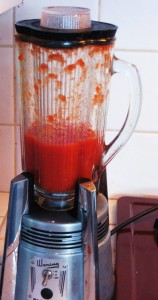 Creamy Tomato Soup
Makes 6 servings
2 cans (28 oz each) of chopped tomatoes in their juice

1 shallot diced

1 cup chicken broth

1/2 cup heavy cream

1 Tbsp olive oil

1 Tbsp sugar

1 Tbsp balsamic vinegar

1/2 tsp black pepper
In large pot heat the olive oil. Add the onions and cook until tender.  Add tomatoes and their juice.  Add chicken broth, sugar, and black pepper and bring to a boil. Lower heat and simmer for 15 minutes.
Puree the soup in batches in a blender or food processor. Return to pot and stir in the cream until heated through, 2-3 minutes.  Remove from heat, stir in the balsamic vinegar and serve.
For the mommies out there: What's great about this dish, is it's already all blended up for baby.  You don't need to do anything except put it in a little baby bowl.  It's perfect for babies ages 6 months and up.
**As always, this is based on my own personal experience. Please check with your baby's pediatrician on introducing solid foods, as these suggestions may not apply to your infant. **