Dutch Baby for Father's Day Brunch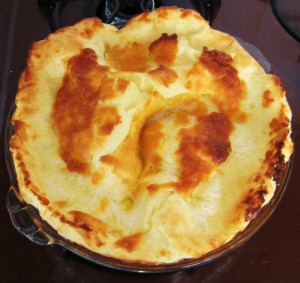 I know that breakfast in bed and flowers are reserved for Mother's Day, and barbecues and outdoor parties are reserved for Father's Day, but why?  Doesn't a father who works hard all week and comes home in time for dinner and help put the kids (or in my case, baby) to bed deserve some pampering too?  Doesn't he deserve to sleep in and then have a nice big brunch with the family? 
When I see how hard my hubby works during the week and then can come home and focus all his attention on our little boy, it warms my heart.  I'm sure most fathers out there do this, but this is the first time I've witnessed it as a wife. 
See, this is our first child. And what no one ever tells you is how hard it is to raise a baby.  Yes, it's a life fulfilling experience and yes, I've loved every minute of it.  Okay, almost every minute of it.  But when my son decides he'd rather feed the dog than himself, or throw the food on the floor, or have a break down if I walk into the next room, or scream and cry because he's suddenly decided he hates the bath, I can call my husband and he'll come home and take over. 

Yes, I'm lucky. Yes, he's wonderful. Yes, we both love him very much.  Which is why I think just like I deserve to sleep in on Mother's Day and let him handle the 6 am feeding for a change, he also deserves to sleep in and have breakfast brought to him on his special day. 
Okay, so I won't actually bring breakfast to him since we don't have a tray, but I will make a nice big breakfast and have it all set up on the table when he wakes up.  And since I'm not going to have a lot of time to do it what with a 13 month old needing all my attention, this little recipe is the perfect breakfast entree.  It's also great if you're expecting a few guests (or relatives) because you only need four ingredients and it only take 30 minutes from start to finish.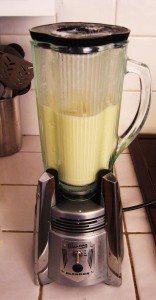 Dutch Baby
2 Tbsp butter
3 eggs
3/4 cup of flour
3/4 cup of milk
Preheat the oven to 425 degrees.
Put the butter in a Pyrex pie plate and melt in the microwave for 1 minute. 
Crack the eggs into the blender and blend on high for 1 minute.  While the blender's running add the milk.  Then with the blender continuing to run gradually add the flour. Blend for another minute or two until totally combined.
Pour the batter into your prepared pie plate and cook for 20-25 minutes, until it's risen and a nice golden brown.
Pull out and let stand for a minute or two.  Slice the Dutch Baby and serve with your favorite sliced fruit and a little cinnamon sugar.  (During the spring and summer months, I forgo the sugar and just use a variety of sliced peaches, apricots, blueberries, and strawberries.)