Lemon Mousse Pie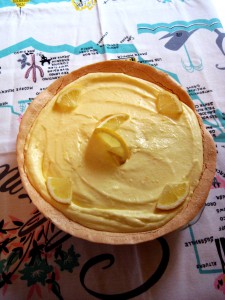 Now that summer's officially here, that means amazing fruit is back in season and light, fruity desserts are a must have for all those outdoor parties.  I love my chocolate, but I also love a good fruit tart or pie.  It doesn't matter if it's blueberry, strawberry, peach or plum, they're all wonderful.  But for some reason nothing screams summer more than a lemon dessert.
I love lemonade, lemon bars, lemon curd, lemon mousse, lemon pound cake… you name it.  In my book, if it's a lemon-based dessert, it's gonna be good.  And this little pie can't be beat. Unlike lemon bars or lemon curd which while delish are often thick and a little on the heavy side, this lemon mousse is light and fluffy.  Almost like taking a bite out of a lemon flavored cloud.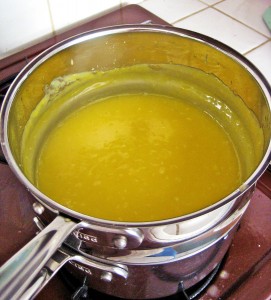 And what makes this pie extra special, is I carry that lightness all the way down the the crust.  That's right.  There's absolutely no flour to be found anywhere in this dish.  So if you're anything like me, you'll be thrilled that you don't have to make and knead the dough before you get to the good stuff.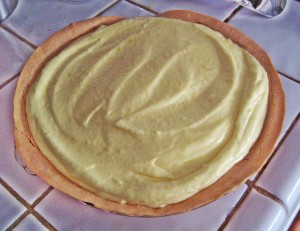 Having said that, I will caution you that while super easy, the crust does need to be made the night before.  See, you want to leave it in the oven over night so that your pretty mountains of meringue don't fall when they hit the cold air outside that nice warm oven.  Other than that, this is a great dish for any summer party, be it birthday, anniversary, or just because.
Lemon Mousse Pie
Meringue Crust
1 cup of sugar
4 egg whites
1/4 tsp Cream of tartar
Preheat the oven to 275 degrees.
Beat the egg whites until stiff.
With the mixer on, gradually add the sugar and cream of tartar until well blended and the whites are shiny.
Spread the meringue in a well-greased 10 inch pie plate, making sure it comes up the sides.
Put in the oven and bake for 1 hour.  Once the buzzer sounds, turn off the oven but leave the crust inside overnight. DO NOT OPEN THE OVEN.
Lemon Mousse
3/4 cup of fresh lemon juice
1 1/2 Tbsp lemon zest
3 large eggs
3 large eggs separated
1 cup of sugar
1 1/2 cups heavy whipping cream
In the top half of a double boiler, whisk together the 3 whole eggs, 3 egg yolks, sugar, lemon zest, and lemon juice.  Once mixed, place over simmering water in the bottom half of your double boiler and cook for about 10 minutes, stirring constantly.  The mixture's done once it's thick and coats the back of a spoon.  Take off the heat and transfer to a bowl to let it cool.  Once cool, cover and place in the refrigerator until chilled – about an hour to an hour and a half.
While the lemon mixture is chilling, beat the whipping cream until it forms stiff peaks and put aside.  Once the lemon mixture is chilled and ready to come out of the refrigerator, beat the egg whites until stiff.  Gently fold the egg whites into the lemon mixture.  Then gently fold the whipped cream into the lemon mixture as well.
Once combined, pour the lemon mixture into your meringue crust from the night before.  Place in the refrigerator and chill for 4 or 5 hours.  Garnish with sliced lemons and serve.