(Not) Slow Cooker Chicken Mushroom Risotto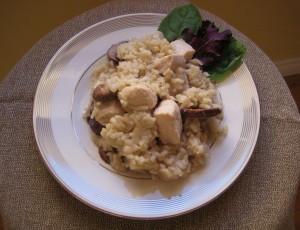 My mommy group has been hit with a variety of illnesses lately, the most prominent being Hand, Foot, and Mouth Disease.  It's a virus that brings with it a fever and little blisters on the children's hands, feet and mouths.  It's no fun for the babies or the parents, but evidently it's a very common virus, especially during the spring and summer months. 
I'm sure you're wondering what a virus has to do with risotto.  Well, since this illness has been going around, my moms and I are bringing food to the effected families.  Trust me, when you're looking after a sick kid, the last thing you can think about is making dinner.  I love risotto, and I love my slow cooker, so I thought I'd make some chicken, mushroom risotto for a couple of the moms.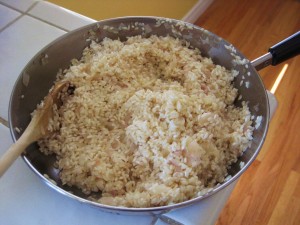 I had a great recipe and was all done preparing it.  But when I went to put it in my slowcooker, I discovered it didn't work. I plugged it in and nothing.  The little light letting you know there's power didn't even turn on.  (Hence the "(Not)" portion of the title.) So, there I was with sauteed rice, chicken, mushrooms and shallots and all the chicken broth in the bowl, but no power. After a minor panic attack, I bit the bullet and decided to continue making the risotto the old fashioned way – in a pan on the stove.  Amazingly it turned out and there was enough left over for me and my son to have for dinner. 
Goes to show, just because your equipment dies, doesn't mean you still can't make a great meal.  You probably won't be able to run the errands you planned, but you can still get dinner on the table.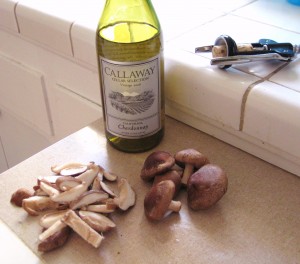 (Not) Slow Cooker Chicken Mushroom Risotto
Makes 4 entree servings
3 Tbsp olive oil
2 shallots, finely chopped
1/2 cup dry white wine, such as a Chardonnay
1 1/2 cups Arborio Rice
3 cups of chicken broth
4 oz shiitake mushrooms, sliced
4 oz button mushrooms, sliced
2-3 boneless, skinless chicken breasts, diced
In a 3 qt saute pan heat the olive oil over medium heat.  Add the diced chicken and sear on all sides. (It will continue cooking once it's in the pan with the rice.) Place the chicken on a plate and save for later.  Using the same pan, saute the mushrooms until just tender.  Add the mushrooms to the same plate as the chicken. 
Continue using the same saute pan, and saute the shallots until soft, but not brown.  Add wine and cook, stirring constantly for about a minute.  Add the rice and stir until rice becomes translucent.  Add the seared chicken and mushrooms.  Pour in all the chicken broth and stir constantly until all the liquid has been absorbed, about 20-25 minutes.  Serve immediately.