Red Wine Marinated Flank Steak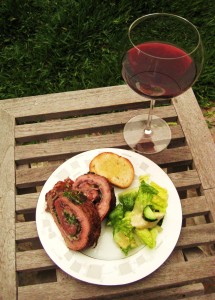 One of my favorite things is getting my monthly pedicure.  As a woman who's on her feet all day, there's absolutely nothing better. My pedicurist is especially great because they have two televisions that are always on and the network that plays most is the food network.  Well, the last time I was there Grill it! with Bobby Flay was on and he was "cooking with wine".  The first dish he made – this red wine marinated flank steak.  It looked so good I had to give it a try.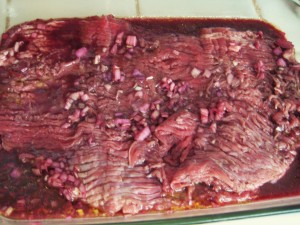 But now I was faced with a dilema.  See, I've been working with the stove or oven my whole life.  I know how they work and depending on what I'm preparing, what temperature to set.  I have no experience with the grill.  The main reason for that is the men in my life have always handled the grill from my father to my husband.  And I'll admit, while I make a killer cookie, my man has always blown my socks off with his burger or kabobs.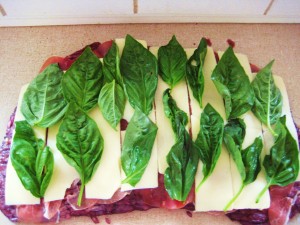 It's all about the temperature.  You can set an exact temperature on an oven, but like the stove, finding a temperature on a grill is not an exact science.  You sort of have to eyeball it.  But if a soup is boiling, you turn the heat down and let it simmer.  Meat, poultry and fish don't boil, so how do you know if it's rare or well done without cutting into it?  These are the questions that have kept me inside all this time. 
After watching Grill It! I decided I was sick of being stuck inside.  Why should I slave over a hot stove in the kitchen when it's so beautiful out?  And there are so many good recipes for the barbecue I decided the time had come to get out of the kitchen.  I wanted this steak and in order to cook it, I was going to have to brave the elements.  Well, last night I took a deep breath, grabbed my tongs and grilled. 
Happily, my steak turned out, dinner was awesome, and best of all I tackled my fear of the grill. All thanks to Bobby Flay.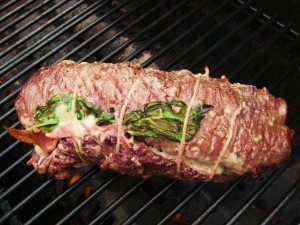 Red Wine Marinated Flank Steak
2 pound flank steak
3 shallots, coarsely chopped
1 cup dry red wine, such as Cabernet
1/4 cup of olive oil
1/4 pound thinly sliced prosciutto
1/4 pound thinly sliced fontina cheese
1 bunch of fresh basil leaves
Cabernet reduction (recipe follows)
In a small bowl whisk together the wine, olive oil and shallots.  Place the steak in a baking dish and cover with the red wine mixture to marinate.  Turn over to coat.  Cover and refrigerate for at least four hours or overnight.
Remove steak from marinade and blot with paper towel.  Lay on a flat surface and season with salt and pepper.  Cover the surface with prosciutto slices, fontina cheese and fresh basil leaves.  Starting at one end, tightly roll the steak around the filling and tie with kitchen string in 4 or 5 places.
Brush the outside of the steak with olive oil and season with salt and pepper.  Grill the steak over direct heat until browned all over – about 8 minutes.  Move the steak away from the direct heat and grill with the cover closed for another 15 – 20 minutes depending on how you like your meat cooked.  (I did about 15 minutes for medium.)  Remove from the grill and let stand for five minutes.  (This will keep the juice in the meat.  If you cut too soon, all those yummy juices will leak out all over the plate.)  Slice the steak into 1/2 inch thick slices and drizzle with the Cabernet Reduction.
Cabernet Reduction
2 tsp olive oil
1/2 bottle of Cabernet wine
1 tsp rainbow peppercorns
4 tsp honey
Heat oil in a large sauce pan over high heat. Add the wine, honey and peppercorns, bring to a boil.  Reduce heat to medium and cook until thickened and reduced to 1 cup.