Rosemary Fried Chicken for the 4th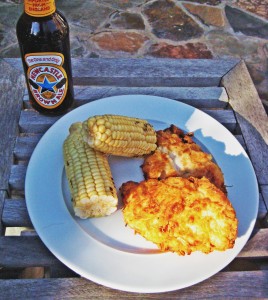 My husband and I have been having 4th of July parties for years. Since we live so close to the beach, we head down in the afternoon with some friends and hang out until the fireworks are over.  One year I was trying to think of a good picnic food that would travel well and thought fried chicken would be great.  I'd made fried chicken before and while it was okay it always seemed to be missing something. 
Then I tasted a friend's fried chicken, and his was so moist and tender I asked him how he did it.  He's from the south and he told me the secret is soaking the chicken in buttermilk over night.  As soon as I started doing that, it made all the difference.  Sure, it's an extra step which means you have to start preparing your chicken the night before, but the tender, juicy piece of meat that results is totally worth the extra effort.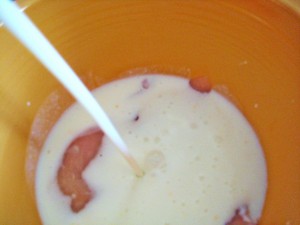 The buttermilk was the first step, then I wanted to hone my batter.  See, it was yummy, but it still wasn't quite right.  I checked out Ina Garten's Oven Fried Chicken recipe and discovered she baked her chicken in the oven after frying it.  So I tried that.  Another improvement.  'course that was also when I was still using bone-in chicken.  After ten years of 4th of July parties, you discover people really don't want to use a knife and fork while lounging on the beach.  It's much easier to pick it up and eat it with your fingers.  So now I only make chicken tenders, which means no more oven since the chicken's cooked all the way through once it's fried.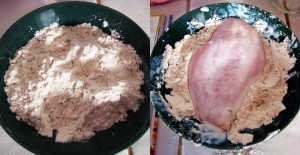 Then I started adding different spices. I tried thyme – nothing special.  Basil – only if you're looking for an Italian flare, which I wasn't.  Cayenne pepper – way too spicy.  Then finally – rosemary.  That was it!  I know, it's not a usual addition to fried chicken, but I love the herb.  It doesn't matter if it's on potatoes, roasted chicken, grilled leg of lamb or pasta, rosemary always brings something special to the dish.
Now that I've perfected my fried chicken, it's become a staple at our 4th of July parties.  As a matter of fact, it's become such a custom, people want to make sure it's going to be there before they RSVP.  So this year, if you're having people over to watch the fire works, give this chicken a try.  I guarantee it'll be a hit.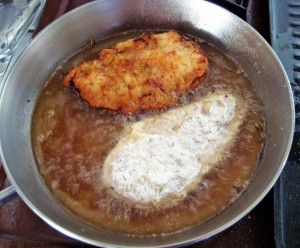 Rosemary Fried Chicken
Makes 10 servings
10 pounds of boneless, skinless chicken breast fillets (they're thinner)  and/or tenders
1/2 gallon buttermilk
4 cups of flour
2 Tbsp kosher salt
2 Tbsp ground black pepper
2 Tbsp rosemary
Vegetable oil
Place the breasts and/or tenders in a bowl and pour the buttermilk over them.  Cover the bowl with plastic wrap and refrigerate over night.
In a large bowl combine the flour, salt, pepper, and rosemary.  Take the chicken out of the refrigerator and dip each piece of chicken in the flour mixture and coat thoroughly.  Pour the vegetable oil into a 12 inch fry pan and heat over a medium heat until it reaches 360 degrees on a thermometer.
Working in batches, carefully place a few pieces of chicken in the oil and fry for 4 minutes per side or until the coating is a nice golden brown.  Remove the chicken from the oil and set on a dish with paper towel to let the excess oil drain off.  Let the oil in the pan return to 360 degrees before frying the next batch of chicken.  Once all the chicken is fried, serve hot.
As an added tip, do not change out the oil between batches.  As you fry more chicken the oil takes on more and more of the flavor from the previous batches.  I actually think the last batch of chicken I fry is usually the most flavorful because it's got all the spices and juices from the previous batches.