Strawberry Dumplings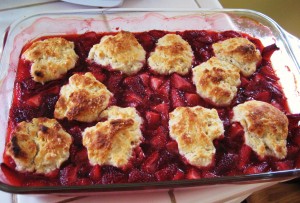 I love strawberries. They're good straight out of the basket, in muffins, on cereal, in lemonade… I honestly don't think there's a wrong way to have a strawberry.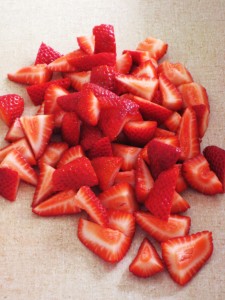 I'm especially a fan of strawberry shortcake.  But a cake takes time and trust me as a new mom, time is something I just don't have.  Then there are those recipes for the personal strawberry shortcakes on buttermilk biscuits, but not only do biscuits take time, just the idea of making them scares me. I never think they're going to be light and fluffy or perfectly round. But thanks to the KTLA Morning News, I've found this great new recipe that's quick and easy and it doesn't matter what shape your biscuits… sorry, dumplings, are.
I've been watching the morning news for years, but what I didn't realize was they have an afternoon show at 1 pm where they do a segment called the "Eat Beat". They pick a recipe and show you how to make it.  While some of them have caught my interest, this was the first one I actually made.  And it was sooooo yummy, I'm definitely adding it to my arsenal of quick summertime desserts.  And you should too. 
Strawberry Dumplings
Makes about 8-10 servings
For the Strawberries
3 pounds of strawberries
1/2 cup of sugar
1 Vanilla bean, seeded
4 tsp Amaretto
Preheat the oven to 425 degrees.
Hull the strawberries, then cut them, keeping the pieces large.  Place the strawberries in a large bowl. Toss with 1/2 cup of sugar, the vanilla seeds and the Amaretto.
Pour the strawberry mixture in a 9×13 inch baking dish and put aside.
For the Dumplings
1 1/2 cups flour
3 Tbsp sugar
2 tsp baking powder
1/2 tsp salt
6 Tbsp cold butter, diced
3/4 cup buttermilk
1/3 cup sliced almonds (optional)
In a large bowl whisk together the first four ingredients.  Cut in the butter using a fork until the butter is reduced to small, pea-sized pieces.  Pour in the buttermilk and stir until the mixture is combined to form a thick, sticky batter.  If you're using the almonds, stir them in until combined.
Using a large spoon, scoop the batter into 8-10 portions.  Space the dumplings evenly over the strawberries.  Then place the baking dish in the oven and bake until the dumplings have risen, are golden brown and the strawberries are soft and bubbly, about 30-40 minutes.  A toothpick inserted into the dumplings should come out clean.
Remove and cool slightly on a rack. Serve warm with whipped cream or vanilla ice cream.