Cafe au Lait Cupcakes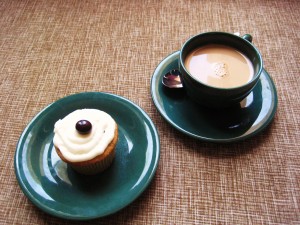 As some of you know, a cupcake shop in Florida, Sweet Surrender Cupcake and Cookie Cafe,  was having a contest several weeks ago.  I heard about it from Bake it Pretty and thought I'd enter.  So I asked several close friends and relatives which cupcake I should make? A chocolate cupcake with fresh strawberry frosting, a strawberry cupcake with chocolate frosting or a coffee cupcake with vanilla frosting.  The resounding response was the coffee cupcake because those are so unusual.  So, since I'd made a coffee and doughnut cupcake (thanks to Cupcake Bakeshop) in March for the City of Hope's 24 hour dance-a-thon, I thought that'd be perfect.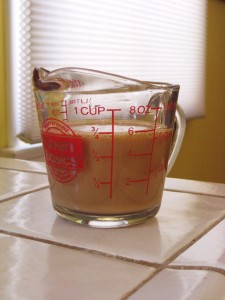 Now if you know about the contest, you're probably wondering why I'm posting my recipe since you weren't supposed to share it.  Well, I decided not to enter the contest.  Since I liked the cupcakes so much, I wanted to be able to share this yummy recipe with all of you.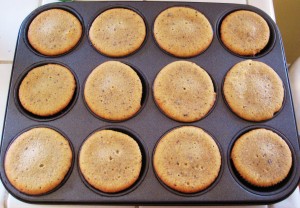 What makes these cupcakes especially good, is they're not too sweet.  They literally taste like coffee in cake form.  And the vanilla frosting on top is the milk and sugar because I take cream and sugar with my coffee.  People always have coffee and doughnuts for breakfast; well what about coffee and cupcakes?  Here's your answer.  These are a great dessert for a fun family brunch or mid morning party.
Cafe au Lait Cupcakes
Makes 12 cupcakes
3/4 cup (1 1/2 sticks) of unsalted butter, room temperature
1 cup of sugar
3 large eggs
2 cups of flour
1 tsp baking powder
1 Tbsp coffee grounds
1/2 cup strong brewed coffee
1/4 cup of milk
a pinch of salt
Vanilla Frosting
1 lb powdered sugar
1/2 cup of unsalted butter, softened
1 Tbsp milk
1 tsp vanilla
12 chocolate covered espresso beans (optional)
Preheat the oven to 350 degrees.
For the cupcakes, beat the butter on high for about 30 seconds.  Add the sugar and beat on medium high until light and fluffy.  Add eggs one at a time and beat until incorporated. 
Whisk together in a bowl the flour, baking powder, salt, and coffee grounds. 
Measure out the brewed coffee and milk together. 
Add about a third of the flour mixture to the sugar and egg mixture and mix until combined.  Pour in a third of the coffee mixture and mix until combined.  Alternate the flour and coffee mixtures until you've combined them both and they're mixed well. 
Spoon the batter into cupcake papers until they're about 2/3 full.   Bake for 22-25 minutes or until a toothpick comes out clean.  Let them cool for five minutes before frosting.
For the frosting:
Beat together the milk, vanilla, butter and powdered sugar until well blended and smooth. 
Frost the cupcakes, dot each with a chocolate covered espresso bean, and serve.