Lemon/Lime Bars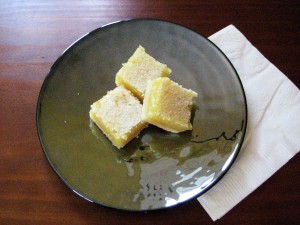 I love lemon bars. They're always so yummy, so easy to make and a nice addition to any picnic. But the other day when I wanted them for an outdoor concert, I discovered I was low on lemons. 
I did have a ton of limes, though.  So I started thinking what if I made lime bars instead?  But I really wanted the lemon.  Then I remembered what a huge fan I am of lemon/lime soda and a new bar was born.  They were just as light and delicious as lemon bars, but with a different tang thanks to the limes.  So the next time you're low on lemons, but in the mood for this great summer dessert, just add a little lime juice.  Trust me, you won't be disappointed.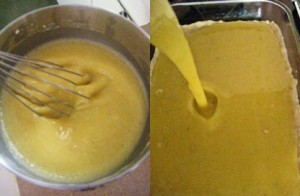 Lemon/Lime Bars
Makes 15 bars
For Crust
1 cup (2 sticks) of butter at room temperature
1/2 cup of sugar
2 cups of flour
pinch of salt
Preheat the oven to 350 degrees F.
Cream the butter and sugar together until they're a pale yellow.  In a separate bowl combine the flour and salt.  With the mixer on low, gradually add the flour/salt to the butter/sugar until just mixed together.
Press the dough into a 9×13 pan and chill in the refrigerator for 30 minutes.  Cook the crust for 15-20 minutes or until it's light brown in color.  Let crust cool, but leave the oven on.
For the Filling
6 eggs
3 cups of sugar
1 Tbsp lemon zest
1 Tbsp lime zest
1/2 cup of lemon juice
1/2 cup of lime juice.
1 cup of flour
Whisk all the ingredients together.  Pour over the cooled crust and bake for 30-35 minutes.
Let cool. Dust with powdered sugar, cut into squares and serve.