Strawberry Chocolate Chip Ice Cream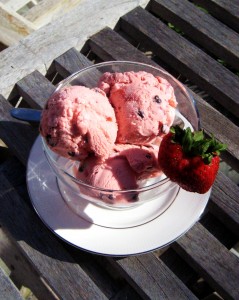 I've always loved ice cream.  But for some reason ever since my third trimester I can't get enough of it.  I crave it. And I don't care what flavor it is – chocolate, coffee, chunky, smooth, it doesn't matter.  As long as it's thick, rich and cold, I'm in.  And now that I've become life-long friends with my ice cream maker, I'm my own 31 Flavors.  Seriously, my freezer is full.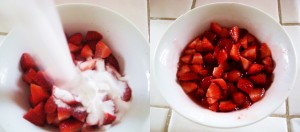 Now normally, I only have ice cream that's of the chocolate or coffee variety. But I was watching a rerun of Grey's Anatomy  recently and at the end of the episode, Meredith, Izzie, and George were all taking spoonfuls from a pint of strawberry ice cream.  I've never been a fan of the fruit ice creams, but for some reason, at that instant, strawberry ice cream sounded like pure perfection to me.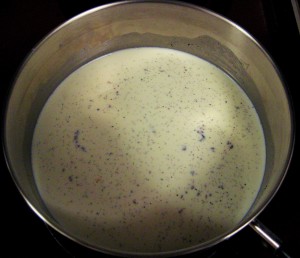 Then it hit me that strawberries were in season.  I'd seen dozens of vendors at the farmers market with baskets and baskets of big, beautiful strawberries.  So the wheels started turning and I said to myself "you know what would be better than homemade strawberry ice cream with fresh strawberries? Homemade strawberry ice cream with chocolate chips." (Yes, I talk to myself when I'm coming up with recipes, don't you?)  I mean, what's better than strawberries and chocolate?  Well, cherries and chocolate, but…  Ooh, cherry chocolate chip ice cream.  And as it so happens, cherries are in season.  Hmmm…  I think I see another ice cream post in my future.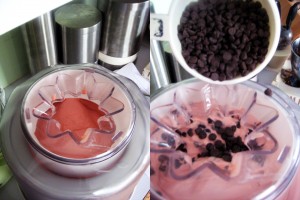 Strawberry Chocolate Chip Ice Cream
Makes 1 1/2 quarts
2 cups of strawberries, hulled and sliced
1/3 cup of sugar
juice from 1/2 a lemon
1 1/2 cups milk (I use non-fat because with all the ice cream I'm making, I need to keep the weight down)
1 1/2 cups heavy cream
1 whole vanilla bean
2 large eggs
3 egg yolks
3/4 cup of sugar
3/4 cup of mini semi-sweet chocolate chips
2-4 drops red food coloring (optional)
In a bowl combine the strawberries, 1/3 cup of sugar, and lemon juice and let marinate for 2 hours.
While the strawberries are marinating, combine the milk and cream in a medium sauce pan.  Using a sharp knife, split the vanilla bean in half lengthwise.  Scrape out the seeds and stir the seeds and the pod into the milk/cream mixture.  Bring the mixture to a slow boil over medium heat.  Reduce the heat to low and simmer for 30 minutes, stirring occasionally.
While the milk/cream mixture is simmering, combine the eggs, egg yolks and sugar in a medium bowl.  Mix on medium speed until the mixture is thick and pale yellow, about two minutes.
Remove the vanilla bean pod from the milk/cream mixture.  Pour out 1 cup of the hot liquid.  With the mixer on low speed, add the cup of hot milk/cream to the egg mixture in a slow steady stream.  when thoroughly combined, pour the egg mixture back into the saucepan and stir to combine.  Cook, stirring constantly, over medium low heat until the mixture has become a custard – it should be thick enough to coat the back of a spoon. 
Transfer the mixture to a bowl.  Add the juice from the strawberries and the few drops of food coloring and stir well to combine.  Cover with plastic wrap, and chill in the refrigerator for at least four hours. 
Once the custard is chilled, add the strawberries and stir to combine.  Pour the mixture into your ice cream maker and follow the machine's instructions.  Five minutes before it's done churning, add the chocolate chips.  Once finished churning, place the ice cream in an air tight container in the freezer for at least two hours and serve.