Bruschetta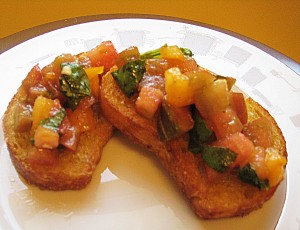 Like a lot of people, I saw Julie & Julia when it came out in the theater last summer.  I enjoyed it, but wouldn't rate it as one of the best movies of all time.  It was cute, but what really turned me on was the food.  This movie and others like it, I don't watch for the actors, directors or story.  These movies I watch for the food.  I call them food porn.  Why? Because I always want to eat afterwards, I want to try and make everything in the movie, and I usually spend the next few days searching the Internet for recipes of entrees or desserts that are similar to those I saw on screen.  Which movies qualify as food porn, you ask?  Here are some of my favorites: Big Night, Waitress, and Like Water For Chocolate.  I walked out of each and every one of those movies craving Italian food, pie, and Mexican.  So Julie & Julia definitely qualifies as one of these movies. 
The other night it was on TV and I just had to watch.  And just like before, when the movie ended all I wanted was something that had been soaked in butter and at least a cup of cream.  So I made a decision.  Rather than run to my local French restaurant and spend a mint, why not just make a couple of the recipes at home?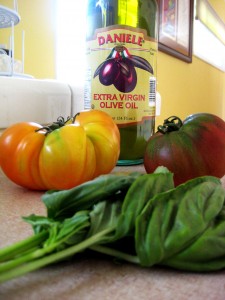 The two that I wanted to try immediately were the Bruschetta that Julie Powell makes early on in the film before she starts her blog and of course Julia Child's Supremes de Volaille aux Champignons or for those out there that don't speak French, Chicken Breasts with Mushrooms and Cream.  And so I did.  I went out, bought the ingredients for both and made each dish.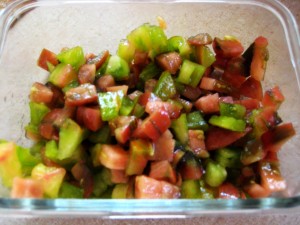 As you can see from the title of this post, this is the bruschetta.  (The chicken with mushrooms and cream will come later this week.)  Now, I've made bruschetta several times before for many reasons.  First, I love it.  Second, it's always a great appetizer that looks like you put way more effort in than you actually did and finally, it's even better when made with heirloom tomatoes, which happen to be in season now.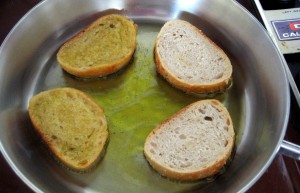 So, you're probably wondering why, if I've made bruschetta so many times before, did I suddenly have the urge to make it again after seeing this movie?  What is it that makes this recipe so special?  Well I'll tell you.  The bread is fried in olive oil.  That's right.  It's not toasted, it's fried right on top of the stove in a skillet.  And it's amazing what a difference frying the bread in olive oil makes.  The bread is moist and gives the whole appetizer a nice, subtle taste.  It was so good, I've already made it twice.  As a matter of fact, I think I'll make it with my fry pan from now on.
Bruschetta
Makes 4 servings
1/2 loaf of good crusty bread, sliced
2 large heirloom tomatoes, diced
1 clove of garlic, minced
1 clove of garlic sliced in half
3 Tbsp. olive oil
2 Tbsp. fresh basil, chopped
1 tsp. kosher salt
Toss the tomatoes, basil, and minced garlic together in a bowl with 1 Tbsp of olive oil.  Chill for at least an hour.
Slice the bread into 1/2 inch slices and fry over medium heat in 2 Tbsp of olive oil until the slices are light brown and crispy on both sides.  About 2 minutes per side.
While the bread is frying, add the salt to the tomato mixture and give another quick toss.
Once the bread is fried, rub the sliced garlic clove over each slice of bread.  The bread will act as a grater.
Spoon the tomato mixture onto the fried slices of bread and serve with plenty of napkins.