Crustless Quiche
I love quiche.  Sometimes there's nothing better than a slice of hot cheesy goodness.  And I don't care if it's totally vegetarian or heavy with meat.  As long as it's got cheese and eggs, I'm happy.  One of my favorite quiches is Trader Joe's Broccoli and Cheddar.  It's sooooo yummy. 
Well one night a few weeks ago, I was out of my emergency supply of Trader Joe's quiches and I thought, how hard could it be to make one of my very own?  I got online and found so many recipes it made my head swim.  They all sounded delicious, the only drawback was every recipe had a crust.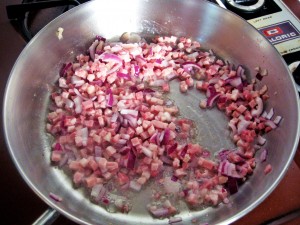 I know, I know, quiche comes with crust.  It's actually one of my favorite parts of this delicacy, especially if it's light and buttery.  But while I love eating quiche (or pie) crusts, I'm not a big fan of making them.  Maybe it's because it usually takes so much extra time.  Or maybe it's because mine don't usually turn out well unless they're made of meringue.  Well, someone out there must feel the same way I do, because I found a recipe on Epicurious for one without the crust.  I was so excited, I had to try it.
As with all recipes I find online, I make my own tweaks depending on what ingredients I have in the house and/or what I like to eat.  This recipe called for ham and frozen onions.  I like to use fresh ingredients whenever I can and I happened to have some shallots in the fridge.  I also really wanted to try this pancetta I found at… you guess it, Trader Joe's, so that's what I substituted.  But if you like ham and onions, feel free to use those ingredients instead.  As with all my recipes, I invite you to make any tweaks you like, after all, that's what makes cooking so much fun.  But if you do substitute one ingredient for another, please, let me know how it turns out.  It might sound so good, I'll have to try it.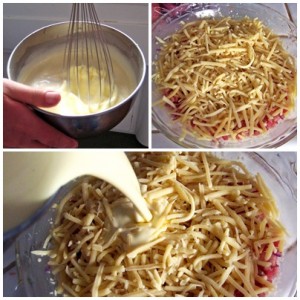 Crustless Quiche
Makes 8 servings
1 1/2 Tbsp. dry bread crumbs
2 shallots chopped
1 cup diced pancetta
1 Tbsp. butter
2 cups shredded Swiss cheese
4 eggs
1 cup heavy cream
1 cup whole milk
Preheat oven to 425 degrees F.  Grease a 9-inch pie plate and sprinkle all over with the bread crumbs.
Saute the shallots and pancetta in a skillet over medium-high heat, stirring occasionally until golden brown, about 5 minutes.  Spread in the pie plate, then sprinkle the cheese on top.
Whisk together the eggs, cream and milk and pour over the cheese. 
Bake until the top is golden brown and custard is set, 25-30 minutes.  Cool slightly, cut into wedges and serve.