Carrot Fries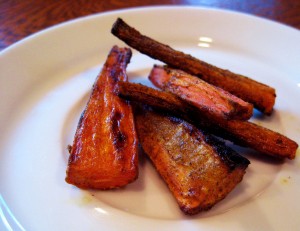 I realized the other day that the subhead for Kitchy Cooking is "a blog for newlyweds and parents who like to entertain" but I don't have any specific baby/toddler food recipes on the site.  There are a few recipes that not only feed adults, but can also be fed to your little one like the Tomato Soup or the Chicken Taco Salad, but I don't have anything that's specifically baby-based.  Well, this post will change that.
Thankfully, my little guy is not a fussy eater.  If I'm making something for me and my husband, 9 times out of 10 my son will eat it.  But sometimes, I'm not making a nice meal for the three of us.  Sometimes, all I want to do is scrounge around in the fridge for left overs or make a sandwich.  And while that's fine for me and my man, it unfortunately, won't work for the little guy. 
Since Aidan can only do peas and hummus so many nights in a row, I'm always on the lookout for another easy meal I can whip up.  Well thanks to Parents.com and Itty Bitty Bistro I found a recipe that was simple, quick and a huge success: crinkle cut carrot fries.  If you don't own a crinkle cutter, don't fret.  I don't own one either.  And since straight cut french fries are just as good as the crinkle cut kind, I figured plain old straight cut carrot fries would also be just as yummy.  I was right.
Aidan couldn't get enough.  Every time he stuffed one in his mouth he was pointing at the plate asking for another. If your toddler won't eat his veggies, I guarantee this recipe will make him change his mind.  It's only 4 ingredients, takes no time, and the best thing about it, they make a great side for a nice chicken or steak dinner for the parents.
Carrot Fries
1 lb of carrots
1 Tbsp olive oil
1/2 tsp thyme
1/4 tsp salt
Preheat the oven to 400 degrees. 
Cut the carrots length-wise in 1/2 inch thick sticks with your crinkle cutter (or straight if you, like me, don't own one).  Toss the carrot sticks with the thyme, olive oil and salt.
Spread the carrot fries on a parchment-lined cookie sheet and bake for 20-25 minutes until soft.  Pull out and let cool for five minutes for the toddlers. (Serve immediately for adults.)
*These carrots are great for babies 8 months and up who have at least 4 teeth or more. You may need to bake them a little longer so they'll be soft enough for them to gnaw on.*
**As always, this is based on my own personal experience. Please check with your baby's pediatrician on introducing solid foods, as these suggestions may not apply to your infant. **