Lemon Blueberry Pancakes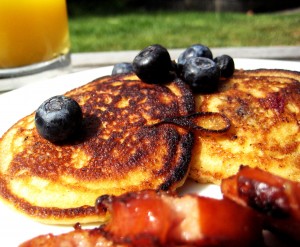 My in-laws were here this weekend.  Since they made dinner for us on Saturday, I thought it would be nice if I made breakfast on Sunday.  And since blueberry season is practically over, I thought some lemon blueberry pancakes would be a great way to get our blueberry fix in before the long winter months.
This was the first time I made pancakes from scratch and I have to say, there's no comparison.  I've always used either Bisquick or Aunt Jemimah mixes because they saved time. They're easy and pretty tasty, especially if you add fruit. Making pancakes from scratch always intimidated me because it seemed like tons of work.  I figured if I could get the same result with the box, why should I bother beating egg whites and sifting flour. Well, I now have the answer – pancakes from scratch not only taste better, they're light and fluffy.  The secret, beaten egg whites.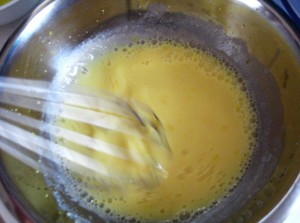 See, since I've never made pancakes from scratch, I've never separated and beaten the egg whites before.  I just stirred in the whole egg. Beating the egg whites really makes all the difference.  The egg whites add air to the batter and the air makes each cake so light, it's like eating a lemon-blueberry flavored cloud.  This airy quality has another much more important benefit, though – you'll probably get to eat more pancakes since they won't fill you up as quickly.
The other trick with these pancakes (or any fruit pancake for that matter) is not to add the fruit to the batter.  When you add the fruit to the batter, it makes it harder to spoon into the pan and more importantly, the fruit gets all mushed up while mixing.  If you want to keep your fruit fresh and nicely shaped, the best thing to do is add the fruit to the cake while it's cooking in the pan, just like in the picture below.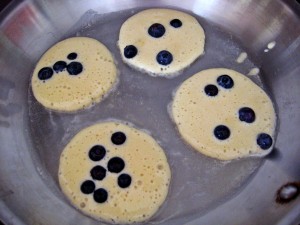 Don't they look yummy? Even cooking in the pan? That picture actually makes me want some right now.  Well… who says pancakes are only for breakfast?  Get a nice lemon sorbet and you've got yourself dessert.  Hmmm… now there's an idea.
Lemon Blueberry Pancakes
Makes about 24 pancakes
1 cup of milk
1 cup of blueberries
juice and zest of 1 lemon
3 eggs, separated
1/3 cup of sugar
1 1/2 cups of cakes flour
1  Tbsp baking powder
pinch of salt
Whisk together milk, eggs yolks, sugar, lemon zest, and lemon juice, until smooth.  Add the dry ingredients and stir until just combined. 
Beat the egg whites until soft peaks form.  Fold 1/3 of the egg whites into the batter.  Then fold the remaining whites into the batter until light and fluffy.
Preheat the pan and melt 1 Tbsp of butter. Spoon the batter into the pan, creating 3-4″ pancakes. Don't crowd the pan. Add a few blueberries to each cake.  Once you see bubbles form in the batter, flip the pancake. They should cook for about 2 minutes per side. Transfer to a plate and serve.