Apple Sauce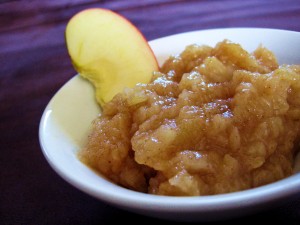 The last two weeks have been full of travel.  First my husband, son and I went to Orlando for a wedding and to see Disneyworld.  Then last weekend my hubs and I were in Vegas for another wedding.  And since it was Vegas, we decided not to bring the baby for a couple reasons.  First it gave us a nice weekend together and second it gave the grandparents 2 full days of the baby all to themselves.  A fun time was had by all. 
But as is life, the fun somehow always comes to an end. My hubs and I returned to real life in Los Angeles and my son caught some sort of awful stomach bug, which means a change in his diet. I remember my doctor always told me the best thing for a stomach virus is the B.R.A.T. diet.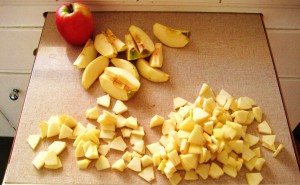 In case you're wondering what B.R.A.T. stands for, I'm going to tell you.
B

is for Bananas

R

is for Rice

A

is for apples

T

is for toast
These four items are very good at coating the stomach and binding things up.  The only thing is, they're all kind of plain on thier own.  I mean, there's nothing worse than dry toast.  I have to at least spread a little butter on it.  So, since I like to spice things up a bit, I always make apple sauce for the A portion of the diet.  It's so easy and it's delicious no matter if it's warm right out of the pan or ice cold out of the refrigerator.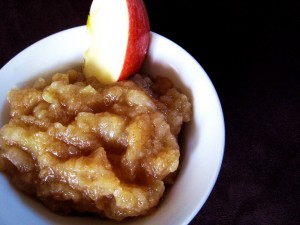 Personally, I like it warm.  Especially on a cold day with some tea.  It's one of those great comfort foods that always makes me feel better. My hubs adores it too and always asks me to whip him up a batch when he's sick.  So, since my little man isn't feeling well, and this apple sauce always makes me and the hubs feel better, I'm hoping it'll do the same for my son.  And maybe it'll do the same for you.
Apple Sauce
4 apples of your choice, diced. (I like Granny Smith or Pink Ladies)
1 cup of water
2 tsp cinnamon
Fill a 3 qt sauce pan with the water and diced apples.  Cover and cook over a low heat for 20-25 minutes, until the apples are nice and soft.
Turn off the heat and mash up the apples in the pan with a fork.  Once mashed to your liking, stir in the cinnamon.  Spoon into a bowl and serve.