Chili
October 20, 2010
by Jennifer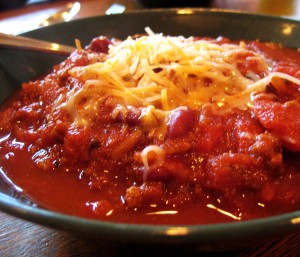 It's been cold and rainy here the last few days and that means one thing.  Comfort food.  There's nothing better on cold, blustery days than chili.  Well, maybe macaroni and cheese or beef stew.  But I'd have to say, my favorite cold day meal has got to be chili.  It only takes about an hour to make and the smells that fill the kitchen scream winter to me.  I always have a couple extra cans of kidney beans and diced tomatoes in the cupboard just so I can whip up a pot on days like these.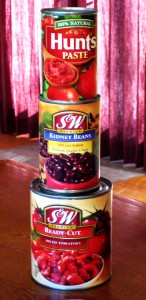 What I love about this recipe is all the different variations you can make.  I always start with my mom's basic recipe and then I start tweaking.  Sometimes I add more garlic or chili powder, sometimes I add a bottle of beer to give it a more rich flavor.  Sometimes I make it with ground pork.  Then there are other times I use ground turkey.  It just depends on what kind of mood I'm in. 
There is one thing that never changes however, I always, always make a double batch.  That way I have plenty of leftovers.  While it's usually nice and warm here in Los Angeles, when it does turn cold, those blustery days tend to stick around awhile.  And although the chili's always yummy right out of the pot, it's even better a day or two later.
So today I'm gonna give you my mom's basic chili recipe.  But as always, feel free to spice it up any way you like.  And remember, you might want to make a double batch.
Chili  (serves 4)
2 Tbsp olive oil
2 garlic cloves, diced
2 medium onions, diced
1 lb of ground hamburger
1 6 oz can of tomato paste
1 28 oz can of diced tomatoes
2 Tbsp of chili powder
2 tsp of ground cumin
1 tsp oregano
1 tsp basil
1-2 tsp of Kosher salt to taste
Heat the oil over medium heat.  Add the garlic and onions and saute until soft. 
Add and brown the hamburger. 
Stir in the tomato paste.  Stir in the juice from the can of tomatoes.  Stir in the diced tomatoes. 
Stir in the chili powder, cumin, oregano, basil, and salt, and bring to a boil. 
Simmer over a low flame for an hour.  Serve piping hot with shredded cheddar cheese and some warm french bread.