Drunken Sailors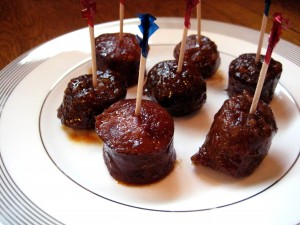 It's October and that means two things in my house – football and Oktoberfest.  I live in the South Bay of Los Angeles County and every year from the end of September through the end of October Alpine Village holds their version of Oktoberfest which includes mediocre beer and lukewarm brats.  As you can tell, I've never been a big fan.  I mean, there are so many great breweries around the South Bay, I've never understood, why they don't get a bunch of those restaurants together, bring their brews and have a real party.  It makes no sense to me. My husband on the other hand, doesn't seem to care how bad the beer and brats are.  He's been going with friends every year since we moved here.  
Well, last year around this time, I and several new friends had babies who were all around five months old.  Since we were all still breast feeding and hadn't had any real alcohol in over a year, all of us were dying for a drink. Nothing big, just a beer or a margarita, or a glass of wine with dinner.  Someone mentioned the Oktoberfest at Alpine village and and I gave my not-so-warm review and suggested we hold our own instead.  Everyone could make a dish that had a German ilk, they could bring their favorite beer, German or otherwise and since it's football season, we could have football playing on the big screen.  It was so much fun, we did it again this year. 
This year, I wanted to make something more than a main dish of brats and saurkraut.  I also wanted an easy appetizer that would keep with the German theme, but didn't require a knife and fork.  I found the perfect solution thanks to the Blogher Food Pity Party.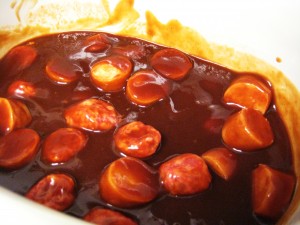 If you've visited my blog in the past couple weeks, you saw these White Russian Brownies I found at Allrecipes.com for the sad menu contest.  Well, this yummy little appetizer was also part of my sad menu for the Pity Party and since the recipe called for Kielbasa, I thought they'd be perfect for our Oktoberfest.  And I was right, they were.  These little "sailors" were such a hit and so easy to make, they'll definitely be appearing at future parties, even if there isn't a German theme.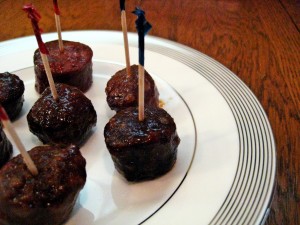 Drunken Sailors 
1 (20 oz) bottle of ketchup
1 (20 oz) bottle of BBQ sauce
3/4 cup of brown sugar
3/4 cup of whiskey
2 lbs of Kielbasa (or Bratwurst) sliced into 1/2 inch pieces
Pour the ketchup and BBQ sauce into a 5 qt. slow cooker.  Stir in the brown sugar and whiskey.  Add the sliced sausages and stir to coat.  Cook on Low for 6 hours.  Serve hot with toothpicks.