Jalapeno Garlic Salsa from The Depot
October 27, 2010
by Jennifer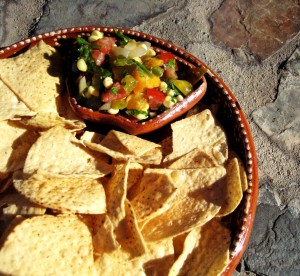 There's a great restaurant in Old Town Torrance called the Depot.  It's an upscale, classy joint right on the edge of downtown that's celebrating its 20th anniversary.  My husband and I have been a few times, as it's nearby and they have some of the best Mac & Cheese I've ever had.  But all the food's amazing and the chef, Michael Shafer, can often be seen in the dining room greeting and chatting up his guests.  In case you couldn't tell, I'm a huge fan.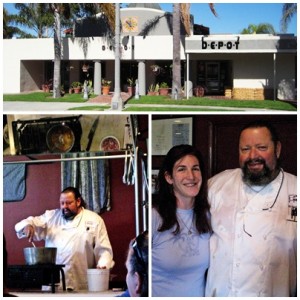 So you can imagine how excited I was when I discovered that Chef Shafer also gives cooking classes once a month.  Well, as soon as I found out about the classes, I knew I just had to attend.  I mean, the chance to learn the secrets behind some of the dishes I've enjoyed, wasn't an opportunity I was going to pass up.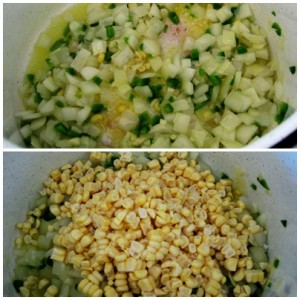 I love cooking with garlic.  Whenever a recipe calls for it, I usually double the dose.  So, considering my obsession with garlic, I knew I had to attend Chef Shafer's garlic class.  I left the class with four new recipes that all revolve around this awesome ingredient.  While all four recipes are delicious, I thought I'd share the garlic salsa with you so you'll be all set for your Halloween parties this weekend.  You'll also be able to ward off those evil vampires and other creepy monsters who might be ringing your doorbells.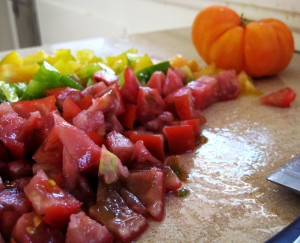 What's great about this recipe, is that you can make it as garlicky or as spicy as you want.  If you're like me and not a big fan of super spicy foods you only need to add 1 or 2 jalapenos.  But if you're going to be a dragon this year for Halloween and really want to breathe fire as part of your costume, feel free to use 4 or 5.  This salsa also doesn't have to be reserved for chips.  I spooned it over my chicken breasts last night for a nice little zing and I'm sure it would be great on swordfish or shrimp.  And there's so much of it, you'll have plenty of leftovers that chef Shafer says could last up to a month (if you can leave it in the  fridge that long). 
So grab your chips, dig in, and have a Happy Halloween!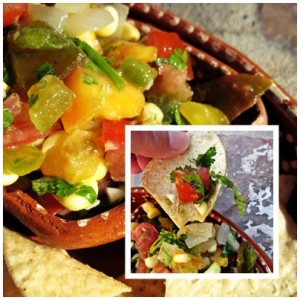 Jalapeno Garlic Salsa 
1/4 cup vegetable oil
10-15 garlic cloves, finely chopped
2-4 jalapenos, chopped
1 whole onion, chopped
2 ears of corn, cut off the cob
4-5 tomatoes, diced
1 bunch of cilantro, chopped
1 tsp Kosher salt
1 tsp ground black pepper
Chop up all the ingredients before you start cooking because once the oil's ready, the process goes very quickly. 
Warm the oil in a large pan over medium heat.  Add the garlic, onion, and jalepenos and saute until just tender, about 2 minutes.  Add the corn and saute another minute.  Add the salt and pepper. 
In a separate bowl mix together the cilantro and tomatoes. 
Add the cooked garlic/corn mixture to the tomatoes and cilantro and mix together.  Serve immediately with chips.