Strawberry Goat Cheese Salad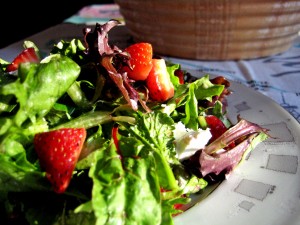 A few months ago, Barbara of Vino Luci Style tweeted she was making roasted chicken with strawberries, caramelized pecans and balsamic dressing.  She sent out a picture and I was immediately hooked.  But since she hadn't posted the recipe yet, I was forced to imagine how wonderful it tasted. 
Although I didn't get to taste her scrumtious-looking dish, it got me to thinking how yummy strawberries and balsamic are together and I immediately ran to the refrigerator to see if I had any strawberries.  I did.  I also had some mixed baby greens and goat cheese. And just like that the idea came to me.  If I couldn't have Barbara's chicken, I could at least have a salad.  And I gotta tell you, the salad was delicious.  I've made it several times since then for family and friends and it's always a big hit.
So, I want to thank Barbara for inspiring me to make this quick, easy and scrumtious salad.  Check out her wonderful blog, maybe it'll inspire you too.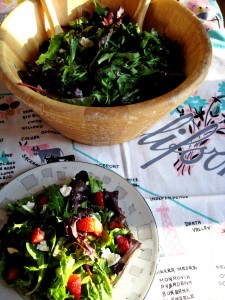 Strawberry Goat Cheese Salad
Serves 4
1 12 oz bag of mixed baby greens
6-10 large strawberries, sliced
2 oz of plain goat cheese, crumbled
2-3Tbsp balsamic vinegar
Rinse and dry the baby greens.  Place them into a large salad bowl.  Sprinkle the sliced strawberries and crumbled goat cheese over the baby greens.  Toss with balsamic vinegar and serve.