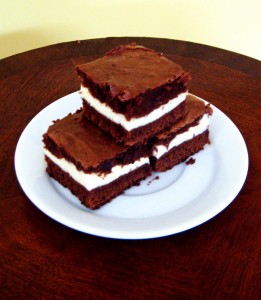 Blogher.com is the web's leading guide to women in the social media world.  They've been holding conferences on blogging and the blogging community for the past six years.  But with all the food bloggers out there, one two-day conference just wasn't enough. Hence Blogher Food was born.  In its infancy, the conference is only in its second year, but is already insanely popular.  Kitchy Cooking is also in its infancy.  I haven't even been blogging a year, but I've already learned so much.  I'm taking better photos than I was even a few months ago and I'm learning more cooking techniques than I knew before, thanks to all the food bloggers I now follow.  So because I'm so new to the food blogging community, I have yet to attend a food blogging conference.  I want to go, but by the time I find out about them, they're sold out. Pitiful, I know.
Thankfully this year, the brilliant team behind The Peche.com started their own conference for those of us that weren't going to Blogher Food.  They created the Blogher Food '10 Pity Party.  We've been spending today (and tomorrow) making fun of each other, laughing, crying, and generally being pathetic in the fact that we couldn't make it to San Francisco for the conference for one reason or another.  And we're winning prizes too.  What could be better?
One of the contests was to come up with the saddest 1 day menu possible using recipes from allrecipes.com.  I'd been to All Recipes on occasion, but I'd never scoured their site before.  That all changed for this contest.   Since the point of the pity party was to remain unshowered, bitter, drunk and in your pajamas all day for two days I scoured their site for recipes that all had alcohol in them.  You wouldn't believe how many there were.  Or maybe you would. 
I came up with a seriously sad menu.  But the saddest thing about it was that I wanted to make at least half the items listed in my menu.  There was only one however, I absolutely had to make immediately. The White Russian Brownies. Not only is there a full cup of liquor in these babies, it's actually the ingredients of a White Russian – vodka and Kahlua.  I can't think of any drink, or dessert for that matter, that's better suited for ending our pitiful party.  But don't take my word for it, whip up a batch and join us.  Please?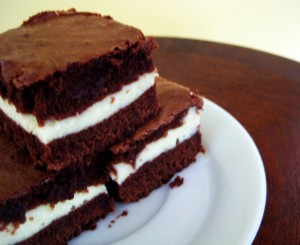 White Russian Brownies (adapted from Allrecipes.com)
2 squares of unsweetened chocolate
4 Tbsp of butter
1 cup of sugar
2 eggs
1 1/4 cups of flour
1/4 tsp baking powder
1/4 tsp Kosher salt
3/4 cup of coffee flavored liqueur, such as Kahlua
12 oz cream cheese (1 1/2 blocks of Philly), softened
1 egg
1/3 cup of sugar
1/4 cup of flour
2 Tbsp butter, softened
1/4 cup of vodka
Preheat the oven to 325 degrees F.  Grease a 9×9 cake pan.
Melt chocolate and 4 Tbsp of butter in a pan on low heat.  Once melted pour into mixing bowl.  Add sugar and mix until combined. Add eggs 1 at a time.  Stir in coffee liqueur.  Sift together the flour, baking powder and salt.  Gradually add to the chocolate mixture until well combined.  Spread half of this mixture into the prepared baking pan.
In a separate bowl stir together the 1/4 cup of flour and 1/3 cup of sugar.  Add softened cream cheese and mix well.  Stir in the egg, 2 Tbsp of butter, and vodka.  Mix until smooth.  Spread this evenly over the chocolate mixture already in the pan.  Pour the remaining chocolate mixture over the top of this. 
Bake for 40-45 minutes in preheated oven.  Let the brownies cool for 10-15 minutes.  Once cooled brush with the remaining 1/4 cup of coffee liqueur and serve.