Heirloom Tomato Sauce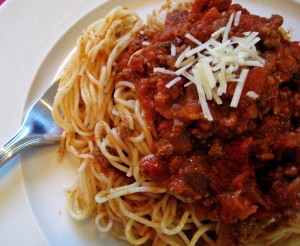 The other day I was on Twitter talking with some of my favorite foodies when the discussion turned to spaghetti. With everything being Thanksgiving and pumpkin oriented, why we started talking spaghetti is beyond me. Maybe it had something to do with Jen's recent post about her Basil Meatballs or maybe it was the fact that it's been so cold and windy here; the perfect weather for Italian food. Whatever the reason, I was more than happy to talk pasta and everything that goes with it.
As we were talking, Rene Rodgers of The Adventures of an Epic Baker mentioned she probably wasn't going to be having much spaghetti because the jarred tomato sauce wasn't exciting her as of late.  So I told her she should make her own. It's easy and the best part is, you can freeze the leftovers for another dinner at a later date.  I always make a double batch, specifically so I'll have leftovers to freeze.  Better yet, you can make this tomato sauce deep into the fall months because the heirloom tomatoes are still around.  And the variety of heirlooms available mean that each time you make the sauce, it will be slightly different.  You can also make it with or without hamburger (or ground turkey) depending on your mood.  Since I'm a staunch carnivore, nine times out of ten, my tomato sauce has some type of ground meat in it.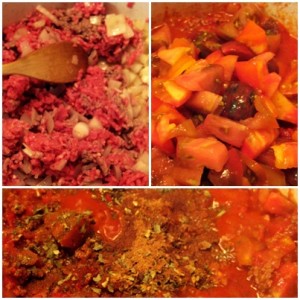 Rene was so happy she wouldn't have to wait until next summer to make a nice hearty marinara sauce, she asked for the recipe. That's when I realized I didn't have one posted.  I promised that I'd have one up by Sunday and dashed out to get all the ingredients for spaghetti and meatballs, which I was more than happy to do since all that talk about basil meatballs and thick, heirloom tomato sauce gave me a serious craving for it.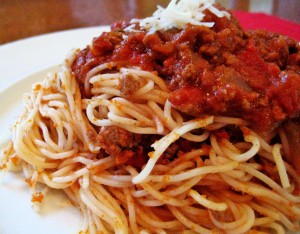 Heirloom Tomato Sauce
2 Tbsp olive oil
1 large brown onion, chopped
4 garlic cloves, chopped
1 lb of hamburger (optional)
2-3 medium heirloom tomatoes, chopped
1 28 oz can of diced tomatoes
1 12oz can of tomato paste
2 tsp basil
2 tsp ground cumin
1 tsp oregano
salt and pepper to taste
Heat the oil in a large pot over medium heat.  Add the chopped onions and garlic and saute for 1 minute.
If you're not using hamburger skip to the next step.  If you're using hamburger: Add the hamburger and saute until cooked through.
Add the tomato paste and mix until well combined.
Add the can and chopped heirloom tomatoes and mix until well combined.
Stir in the basil, cumin, oregano, salt and pepper and bring to a boil.  Lower the flame and simmer for about an hour.
Serve hot over your favorite pasta.