Pumpkin Flan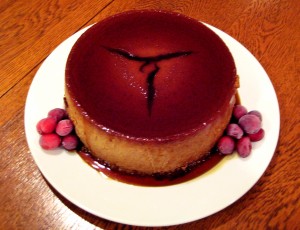 I always know when it's November.  No, it's not by looking on the calendar, it's because all the stores have somehow managed to take down their Halloween decorations and put up their Christmas decorations in one night. It's because Starbucks starts serving their drinks in Christmas cups.  It's because on the cover of almost every cooking magazine is a picture of a turkey.  That's right, November and Thanksgiving, they're synonymous. 
It's the time of year when people start planning their big family get togethers. Who's hosting, who's making what dish, and how in the world are we going to top what was made last year.  To me there are six very important parts to this holiday feast – of course the turkey, stuffing, and cranberry sauce.  Then there are the sweet and mashed potatoes.  And while thanksgiving wouldn't be Thanksgiving without any one of these, the absolutely most important part of the meal is without a doubt dessert. 
Dessert was so important at my house, that somehow we always ended up with at least five or six different kinds. Since we're all big chocoholics, a chocolate dessert was an absolute must.  There was always something with apples and of course Thanksgiving wouldn't be Thanksgiving without pumpkin pie.  Now I know this will probably come off as blasphemy to many of you out there, but I've never been a big fan of pumpkin pie.  I know, shudder at the thought.  I don't know why I don't like it, maybe it's the consistency of the filling or the crust or maybe it's the Cool Whip that everyone seems to add to it. I have no reason as to why I don't like this classic dessert, especially since I love pumpkin and nutmeg and cinnamon.  All I know is if I see a plain old pumpkin pie on a dessert table at Thanksgiving, I'm usually looking to see what else there is.

Well, a few years ago my mom asked me to make a dessert and seeing as how the chocolate portion of the evening was already spoken for, I got stuck with pumpkin. I was not excited.  But seeing as how I love making desserts, and I was determined to do a good job with my assignment, I set out with a plan: fine, I'll make pumpkin, but it will not, under any circumstances, be a pie. 
Well, much to my surprise, there were plenty of other options. Pumpkin cheesecake, pumpkin pudding, pumpkin cupcakes… the list seemed to go on and on. And then I found it. Epicurious had something I had never heard of, or tasted, but sounded absolutely amazing – pumpkin flan.
Flan is a Spanish dessert made of egg custard and caramel, and something that I love. It's creamy and sweet and just seems to melt on the tongue. So when I thought of taking that Spanish delicacy and then adding the rich flavors of pumpkin, cinnamon and nutmeg, I knew I had a winner. And oh my god, what a winner. This dessert is so rich and creamy and flavorful, you'll definitely be heading back for seconds. 
So the next time you're asked to make a pumpkin dessert for the holiday, leave your pie plate at home and bring your souffle dish instead.  I promise you'll be the hit of the feast.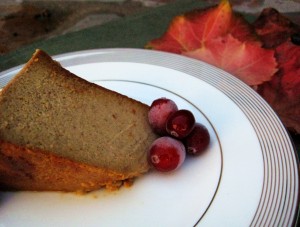 Pumpkin Flan
Makes 10-12 servings
1 cup of sugar
1/3 cup of water
1 15 oz can of pure pumpkin
1 14 oz can of sweetened condensed milk
2 Tbsp dark brown sugar
2 tsp ground cinnamon
1 1/2 tsp ground ginger
1/2 tsp ground allspice
1/4 tsp ground cloves
4 large eggs
4 egg yolks
2 cups heavy whipping cream
2 tsp vanilla
Preheat oven to 325°F.
Combine 1 cup of sugar and 1/3 cup of water in small saucepan. Stir over medium-low heat until sugar dissolves.  Increase heat and bring to boil, brushing down sides of pan with wet pastry brush.  Boil without stirring until syrup is deep amber color, occasionally brushing down sides and swirling pan, about 10 minutes.  Immediately pour caramel into 7 or 8 cup souffle dish, tilting and rotating dish to coat bottom and 2 inches up sides thickly.  Place the dish in a 9×13 metal baking pan.
Whisk pumpkin, condensed milk, sugar, and spices in large bowl to blend.  Whisk in eggs and yolks, then cream and vanilla.  Pour custard into the prepared souffle dish.  Pour enough hot water into the metal baking pan to come 1 1/2 inches up the side of the dish.
Bake flan for about 2 hours and 20 minutes.  The flan should be deep brown on top and firmly set in center and the blade of a small sharp knife inserted into center should come out clean.  Remove flan from water and let cool for 1 hour.  Refrigerate uncovered until very cold, at least six hours.  (This can be made a day or two ahead of your feast.  Just cover it and keep refrigerated.)
Once ready to serve, cut around the flan to loosen.  Place platter on flan dish.  Holding platter and flan dish together, invert, allowing flan to settle onto the platter.  Cut flan into wedges and serve.