Chocolate Mint Cookies for Eat my Blog December 2010
December 10, 2010
by Jennifer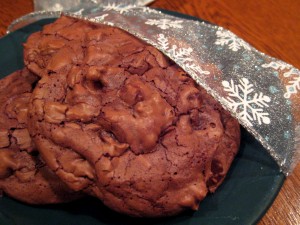 As some of you may recall, I participated in the Eatmyblog 2.0 in June where we raised over $5400.  Since June's bake sale was such a huge success, I told Cathy Dahn of Gastronomy Blog that I'd be more than happy to bake something new for Eatmyblog 3.0. 
For those of you who don't know, Eatmyblog is a charity bake sale where are all the goodies are made by southern California food bloggers and all the money raised goes to the Los Angeles Regional Food Bank.  This month's bake sale, held again at West Hollywood's Tender Greens, raised over $3700.  And while I was unable to attend the actual bake sale this time, I was still able to participate. 
Since the bake sale was to take place in December, I wanted to make something that said the holidays to me.  And nothing says Christmas better than chocolate and mint.  So, I decided to make one of my favorite holiday treats, Chocolate Mint Cookies. 
I discovered this recipe I don't know how many years ago in a Bon Appetit magazine.  It looked so good I just had to try it and I've been making them every year since.  They're easy, take no time and are so yummy, it's hard for me not to eat the whole batch as soon as they come out of the oven.  So, in case you were like me and couldn't get out to West Hollywood last Saturday to sample these and many other scrumptious treats, here's the recipe so you can whip up a batch yourself.
Chocolate Mint Cookies
2 1/2 cups semisweet chocolate chips
6 Tbsp flour
1/2 tsp baking powder
1/2 cup of sugar
2 eggs
2 Tbsp dark corn syrup
1/2 tsp peppermint extract
Preheat oven to 350°F.  Line 2 baking sheets with tin foil; butter the foil.
Place 1 1/4 cups of chocolate chips in a glass bowl.  Microwave on medium-high until melted, stirring every 30 seconds.  Cool for 15 minutes.
Sift together flour and baking powder in a small bowl.
Beat together the sugar, eggs, corn syrup, and peppermint extract in a medium bowl until thick, about 3 minutes.  Gradually beat in the melted chocolate, then the dry ingredients.  Mix in the remaining chocolate chips.  Freeze cookie dough for 10 minutes.
Drop heaping spoonfuls of batter onto each prepared baking sheet, spacing the cookies apart (they'll spread as they cook).  Bake until cookies are cracked on top and softly set, 12-15 minutes.
Cool the cookies on the baking sheets for 5 minutes.  Using a metal spatula, transfer the cookies to racks and cool completely.