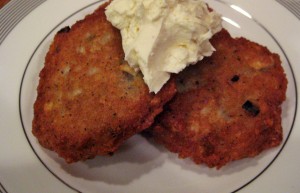 First I want to apologize to my readers for being absent the past couple weeks. Between traveling for Thanksgiving, having a cold run though the entire family, and trying to get back to normal, it was hard to check e-mail let alone post a recipe or two to the blog.  But now I and the rest of the family are healthy, the Christmas tree is up and decorated and I was finally able to check e-mail.  So, without further ado, a new post, just in time for the sixth night of Hanukkah.
If there's one thing I love about the Festival of Lights, it's latkes. I know I can have them year 'round if I want to, but something about making them specifically on Hanukkah… I don't know, they're just better to me.  They may have been made with the same ingredients and cooked in the same pan, but because it's the holidays and the candles are burning, to me they just taste better.
My mom's been making latkes for as long as I can remember. I always loved helping her, which usually entailed peeling and/or grating the potatoes.  Thankfully the food processor came along and neither one of us has grated a potato since.  And by not grating, that has given me more time to try out new latke recipes.  Now, don't get me wrong, my mom's recipe is classic, and it's still just as yummy as the first time I tried it.  But I like my latkes more like pancakes, with the potato finely minced as opposed to graded into long strings. And that's what makes this recipe from Bon Appetit so wonderful.  The potatoes are so finely chopped, it's easy to make them into perfect little circles.  That combined with green onions, make for what in my opinion could be the perfect latke.  But I'll let you be the judge.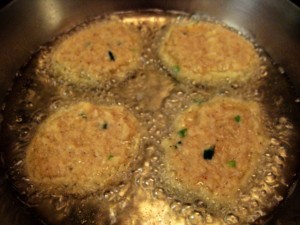 Potato and Green Onion Latkes
(serves 12)
3 eggs
6 Tbsp grated onion
2 tsp Kosher salt
1 1/4 tsp black pepper
3 cups chopped green onions
4 1/2 lbs russet potatoes, peeled, cut into cubes
3 Tbsp matzo meal
1 1/2 tsp baking powder
1 cup vegetable oil (for frying)
Beat together the eggs, grated onion, salt and pepper in a large bowl.  Mix in green onions and let stand for 15 minutes.
Grind 1/3 of potatoes in the food processor until the potatoes are reduced to rice-sized pieces.  Transfer to clean kitchen towel.  Squeeze out as much liquid as possible.  Scrape potatoes off towel into egg mixture.  Repeat with remaining potatoes in 2 more batches.  Add matzo meal and baking powder and mix thoroughly.
Heat 1/4 cup of oil in each of two heavy large skillets over medium-high heat.  For each latke, drop 1 heaping spoonful of potato mixture into skillets (about 4 per skillet). Using metal spatula, flatten mounds to 2 inch circles.  Fry until latkes are golden brown, 2-3 minutes per side.  Transfer to paper towel-lined baking sheets (to soak up the extra oil).  Repeat with remaining potato mixture, adding oil to the skillet as needed.  (These can be made 3 hours ahead.  Let stand at room temperature, then rewarm in 350°F oven until crisp, about 10 minutes.)