Marinated Mushrooms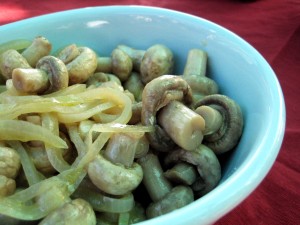 I love the Superbowl.  The parties, the game, the commercials… did I mention the parties?  My hubs and I have been throwing a party every year for at least the past 10.  Each year we invite a big group of people over to watch the game and laugh at the commercials.  It's always a blast.  But the thing that I enjoy most is coming up with the menu.
We always have a crudites platter.  There's always chips, salsa, and homemade guacamole, and of course there's always a variety of beer.  But the past couple years, I've changed things up a bit.  I was tired of trying to come up with a new version of a seven-layer dip or some new take on nachos.  So a couple years ago, I decided to make an appetizer my mother's been making for years – marinated mushrooms.
Here's why I love marinated mushrooms: they're super easy to make, you can make them at least a day ahead of time and they're something out of the ordinary.  People are always surprised when they see them on the table, because they look so gourmet and aren't something you automatically think of when you think of party food.  But my favorite thing about these tasty morsels is that they can be made in advance.  
In my opinion, the most important aspect of throwing a party, is that you have fun.  And while it's true that most of the time people end up congregating in the kitchen during said party, I want to be in the kitchen because I choose to be, not because I have to be.  There's nothing worse than missing your own soirée because you're stuck in the kitchen cooking.  These mushroom won't make you miss your party.  As a matter of fact, they'll be ready to go and on the table before the first guest even arrives.
So if you're hosting a superbowl party, or trying to figure out what to bring to one, give these delectable treats a whirl. Neither you or your guests will be disappointed and best of all, you'll be able to sit on the couch and cheer for your favorite team with everyone else.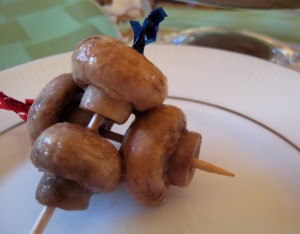 Marinated Mushrooms
Ingredients
2/3 cup red wine vinegar
2/3 cup olive oil
1 large onion, thinly sliced
2 tsp Kosher salt
2 tsp Dijon mustard
2 Tbsp brown sugar
2 pounds button mushrooms
Directions
Place everything except the mushrooms in a 3 qt sauce pan and bring to a boil over medium-high heat.
Reduce the heat to low and add the mushrooms.  Simmer for 5-6 minutes.
Transfer the contents of the pan to a large container.  Cover and chill for at least 24 hours.  Can be made 2 days ahead.
Using a slotted spoon, transfer mushrooms and onions to serving bowl and serve with toothpicks.