Rosemary Polenta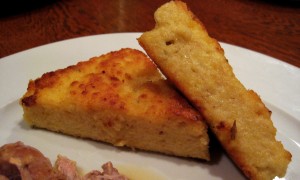 I absolutely love polenta. It's just so yummy! It's good as a cake or as a thick and creamy side dish.  But up until recently I'd only had it in restaurants.  Whenever a restaurant had polenta listed as a side dish, I ordered it.  That's how much I like it.  Even if my entree came with a side, I still ordered the polenta.  It's that good.  But it's also the perfect side dish when you're not in the mood for potatoes.  Or rice.  Or even a vegetable.  But I'd never made it before.  I didn't even know you could make it, let alone how.
Then a very good friend of mine made some.  As a matter of fact she makes it all the time.  It was so creamy and delicious, I asked her where she bought it.  I was surprised to find out that she'd made it herself.  Well, of course I wanted the recipe.  It was Ina Garten's Rosemary Polenta.  So, I came home, found the recipe online and tried making it myself.  It did not go well.  As a matter of fact it turned into a gloppy mess. 
After chilling it for a couple hours I was supposed to be able to cut it "like brownies" and fry it up.  But it didn't cut like brownies.  And as for the frying, well it definitely didn't turn  into the pretty cakes you see in the top picture.  It spread all over the pan and turned into, well, a kind of soup.  There was just too much liquid.  I didn't understand what I'd done wrong.  I'd followed the recipe to the letter.  So I e-mailed my friend and asked her how she made it.  She told me she'd made some changes, but was still using the seven cups of liquid the recipe called for.  I knew there was no way I was going to get those nice cakes if I used seven cups.  So I took my friend's changes and made a few of my own and came out with delicious, creamy polenta cakes.  I was so excited.  And the best news is, I now have a new side to add to my repertoir.  
So the next time you're making a nice dinner, but don't want to do potatoes, rice or even a vegetable, give this polenta a try.  Whether you choose to make cakes or a creamy side, you won't be disappointed.
Rosemary Polenta
1/2 cup (1 stick) of butter
1/4 cup of olive oil
2 garlic cloves, minced
1 Tbsp rosemary
1/2 tsp Kosher salt
1/2 tsp freshly ground pepper
3 cup chicken stock
3 cups half-and-half
2 cups corn meal
3/4 cup grated Parmesan cheese
Heat the butter and olive oil in a 3 qt sauce pan over medium-high heat until the butter is melted.  Add the garlic, rosemary, salt, and pepper and saute for 1 minute.
Add the chicken stock and half-and-half and bring to a boil.
Reduce the heat to low and gradually add the corn meal to the milk while stirring constantly with a whisk.  Continue stirring for 2-3 minutes until thick and bubbling.
Remove from heat and add the Parmesan cheese while stirring with a whisk. 
At this point you have two options:
1. You can serve it in this hot, creamy form or…
2. You can transfer it to a 9×13 pan to make little cakes.  If you're making cakes…
Pour the hot, creamy polenta into a 9×13 pan and chill for at least 3 hours or overnight. 
Cut the chilled polenta into squares, like brownies.  Lift each one out with a spatula and cut into triangles.  Dust each triangle lightly with flour. 
Heat 1 Tbsp olive oil and 1 Tbsp butter in a pan over medium heat and cook the triangles in batches for 3-5 minutes, or until browned on the outside and heated inside.  Add more butter and oil as needed to finish making the polenta cakes.  Serve immediately.