Breakfast Potato Sausage Hash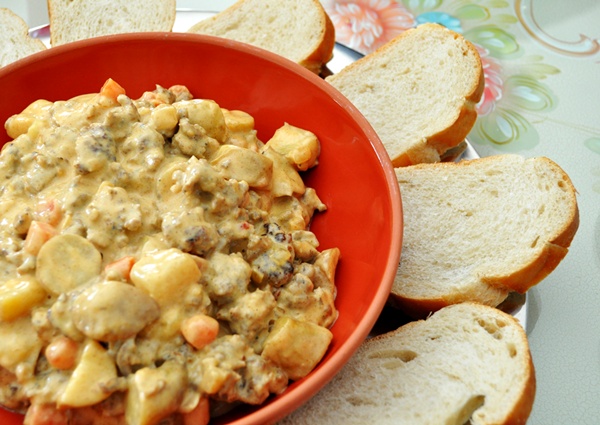 Not sure if you remember, but a few months ago I attended a cooking class at The Depot in Torrance.  Well, I had such a good time at that cooking class, I couldn't wait to do another one.  And since I absolutely love breakfast, I decided the next class I had to attend was the Breakfast in Bed class.  I mean a class that was all about french toast, pancakes, and eggs? Who would pass that up?
As with every class, Chef Shafer provides the students with a list of ingredients for a few different recipes and then proceeds to show them how to make each dish.  Then once he's done cooking it, the students get to eat everything he's made.  It's like eating a full meal at the restaurant, with the added bonus of learning how to make what we're eating.  As usual the food was so delicious, I knew I wanted to try and make each and every dish Chef Shafer showed us.  The first one I wanted to try was this Potato Sausage Hash.
I was slightly intimidate at first. I mean, I had all the ingredients and I had watched Chef Shafer make the hash step by step, but his was so rich and creamy and deliciously evil.  What if mine didn't measure up?  The good news is, it did.  It was just as easy to make at home as he made it seem right in his own restaurant.  It came out rich and thick and absolutely amazing. 
While you could easily eat this hash all by itself, it's even better with a nice crusty bread.  But the best way to have it is with two eggs over-easy.  So the next time you're having guests for brunch, or if you just want to spice up your own breakfast, whip up this hash. You won't be disappointed.
Breakfast Potato Sausage Hash
2 Tbsp olive oil
1 lb pork sausage (Jimmy Dean works great)
1 cup onions, diced
1 cup carrots
2 pounds cooked fingerling potatoes
1 Tbsp paprika
2 cups cream
1 1/2 cups shredded cheddar and jack cheese blend
Cook sausage in a large skillet over medium-high heat until browned, 7-8 minutes
Add onions and carrots and cook until tender, about 2 minutes
Add salt and pepper to taste. Add potatoes and let cook 5-6 minutes or until potatoes are heated through.
Add cream and paprika and cook until thickened slightly, 2-3 minutes.
Stir in cheese until melted. Serve immediately with eggs or toast.