Kasha Varnishkes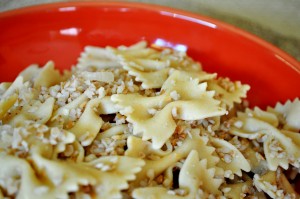 Last time my family and I visited my parents up in northern California, my mother made Kasha Varnishkes as a side to go with dinner.  I don't remember what the main course was, but I remember the Kasha; mainly because my mother made it every so often when I was growing up and it brought back a flood of tasty memories.  I don't know how to describe the dish, other than to say it's a little salty, a little chewy and totally delicious.  So, of course I had to have the recipe. 
My mother told me it was very easy to make.  All you needed was some chicken stock, some farfalle pasta (those little bow ties) and the all important kasha.  No problem I thought, especially when Mom told me I should be able to find the kasha at the grocery store.
Well, finding the ingredients was actually a lot harder than I expected.  I was right about the chicken stock and the farfalle.  Those were right where they should be, in the soup and pasta aisles.  But the kasha… couldn't find it anywhere, and I searched 3 different supermarkets.  It wasn't with the rice.  It wasn't with the bulk items like granola or quinoa.  And when I asked for help from any of the store employees, half of them either didn't know what it was or took me to the cereal aisle.  I could order it from Amazon but they only came in a 12 pack and I just didn't need 12 boxes. 
So, I was just about to give up on ever making Kasha Varnishkes when I spotted not just one box, but several in the ethnic foods aisle.  That's right, it was with the Jewish food.  Makes sense since it is a Jewish dish.  I don't know why I never thought of that, but it didn't matter.  I finally had my missing ingredient and could recreate the dish my mother had made so many times before.
Now that you know where to find the kasha, whip up a batch the next time you're at a loss of what side dish to make.  You and your family will absolutely love it.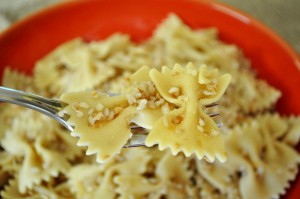 Kasha Varnishkes
Ingredients
1 large onion, chopped
2 Tbsp butter
1 egg, beaten
1 cup kasha
2 cups chicken stock
12 oz farfalle (bow tie pasta)
Directions
Melt the butter in a pan over medium heat and sauté the onions.  Remove the onions to a plate.
Beat the egg in a small bowl.  Stir in the kasha until all the grains are covered.  Place the egg covered kasha in the same pan over high heat and cook for 2-4 minutes.
Add the chicken stock and bring to a boil.  Stir in the onions and cover.  Reduce the heat and simmer for 15 minutes until the kasha is tender and all the liquid has been absorbed. 
While the kasha cooks, bring a large pot of salted water to a rolling boil.  Add the farfalle and cook according to the directions on the package.  Drain and set aside.
When the kasha is ready, combine with the bow ties and serve.