Strawberry Balsamic Syrup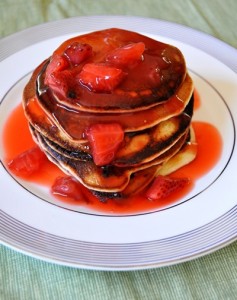 Thanks to Rachel over at La Fuji Mama, I've discovered that it's pancake week.  And tomorrow is officially Pancake Day. Evidently it's a holiday celebrated the week before Lent.  Since meat, fish, dairy products and eggs are forbidden during Lent, this is the last week you're allowed to partake in cheese, milk and other dairy products.  Hence pancakes – the perfect combination of flour, milk and eggs.
I've never needed an excuse to make or eat pancakes. But now that I know there's actually a whole week dedicated to the breakfast food, who am I to buck tradition?  I love me a good pancake whether it's made from scratch or Aunt Jemima.  I usually make pancakes on the weekends since that's when I have the time to mix up the batter, make the pancakes and take the time necessary to enjoy them.  As a matter of fact, I whipped up a batch of Kristina Vanni's Swedish Pancakes just this weekend.  But instead of adding lingonberries, I wanted to use strawberries.
Strawberries have always been one of my favorite berries.  It doesn't matter if I eat them straight out of the basket, put them in a cake or muffin, or add them to a salad.  They're always delicious.  And I recently discovered they go really well with balsamic vinegar.  So I started thinking what if I made a strawberry balsamic syrup?  The sweetness of the strawberries coupled with the tartness of the vinegar make for a syrup that's got a great sweet-tart quality and a nice alternative to the standard maple. 
So get in on the pancake fun this week.  Whip up a batch of your favorite pancakes and pour some of this yummy strawberry balsamic syrup on top.  Or if you want to be really daring and try a new pancake, head on over to Rachel's website and check out her list of pancakes and syrups for pancake week.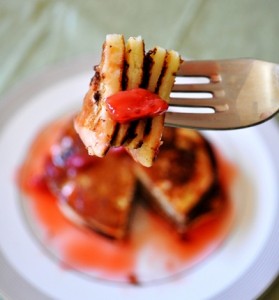 Strawberry Balsamic Syrup
2/3 cup sugar
2/3 cup white balsamic vinegar
1 Tbsp cornstarch
2 cups strawberries, chopped
In a small sauce pan whisk together sugar and white balsamic vinegar over medium heat until sugar is disolved.
Add cornstarch, stirring constantly until syrup has thickened, about 2 minutes
Add strawberries and continue stirring until syrup takes on a red hue and strawberries are heated through, 3-5 minutes.  Pour into a pitcher and serve with your favorite french toast or pancakes.