A Lesson in Balsamic and a Giveaway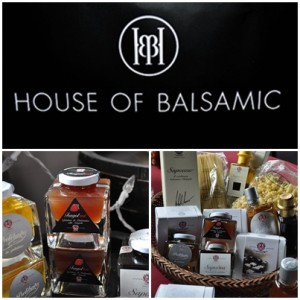 This giveaway is now closed.
What do you think of when you hear the word "balsamic"? Vinegar right?  I always did.  That is until I was invited to the House of Balsamic for a vinegar tasting.  Little did I know I was in for a lot more than just vinegar.  
Did you know that balsamic actually comes from the word balsam? And that balsam means "an agency that heals, soothes and restores"?  Neither did I.  But it turns out that soothing and restoring is the House of Balsamic's specialty.  
Not only do they sell a variety of delicious vinegars, jams and oils that restore your faith in good food, they also have a gallery, vacation packages, and cooking classes; all designed to achieve their mission of providing "a warm and approachable space where members can engage in rare experiences, taste incredible food and wine, and take part in cultural activities."  While all of these opportunities aren't available yet, they should be by the time House of Balsamic officially opens on March 26th. In the mean time, they gave me a serious schooling in balsamic vinegar. 
I discovered that most of the balsamic vinegars I see on the shelf at the grocery store aren't traditional.  Only 100 families in Italy are actually licensed to make traditional balsamic vinegar. What makes it traditional you ask?  The vinegar has to be aged at least 12 years before it's tested and approved for bottling.  So, in order to provide the best balsamic Italy has to offer, House of Balsamic has teamed up with one such family – the Malpighi family.  
For five generations the Malpighis have been passing down their secret family recipe for the perfect balsamic vinegar.  Like all balsamic makers, they start with Saba, a grape juice that has been aged 72 hours.  Then they place the saba and their own special ingredients in barrels much like those in the photo above.  Over time the family moves the liquid into smaller and smaller barrels until it's ready to be tasted by a consortium.  The vinegar is then decanted straight from the oldest and smallest barrel, and if the vinegar meets all of the consortium's criteria, the seal of the consorzio is placed on the bottle with the Italian government designation of D.O.C. (Denominazione di Origine Controllata).  This is how the Malpighis create not only a 12 year-old balsamic, but also a 25, 50, 80, and even 100 year-old vinegar. 
I was lucky enough to taste the 12, 25, and 50 year-old balsamics along with some of their condiment balsamic vinegars. These are the vinegars that have only been aged a few years.  They're just as delicious, but can be mixed into marinades or added to sauces without feeling guilty. After all when a 3.5 ounce bottle of vinegar costs $159, I really don't want to use it as a marinade for my flank steak.  
My favorites were the Prelibato, a white balsamic vinegar that goes perfectly with seafood, the Balsamo di Arancia, an orange balsamic which is great on pancakes and makes one hell of a shortbread cookie (that recipe will appear here in the coming weeks), and the Prelibato Jelly which is also made from the white balsamic vinegar and is scrumptious thickly spread on an english muffin. 
When I asked Maria Marking, the academy director, what her recommendations for cooking with the traditional balsamics were, she told me considering the cost, most people sip them, like a really good wine.  After tasting them I can see why, they were amazing.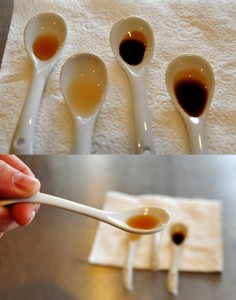 Don't they look luscious?  Aren't you just dying to try each and every one of them?  Well, there's good news.  House of Balsamic was nice enough to send me home with a bottle of their Saporoso Riserva – a balsamic that has been aged in barrels for eight years – just for you, my fine, balsamic-loving fans. Which brings me to…
The Giveaway!
How do I win?  This GIVEAWAY is now CLOSED. 
Head over to the House of Balsamic website and browse their store, then come back to this post and tell me which of their delicious products you'd love to have. 
Want extra entries? Each of these will get you one chance to win.  And if you already do any of these, they count! So make sure you let me know and leave a separate comment for each one for a total of 5 extra entries. 
Follow @kitchycooker and @houseofbalsamic on Twitter.
Tweet the following statement: I just entered to win a bottle of balsamic vinegar from @kitchycooker. Have you? http://bit.ly/fPzxj0 #Giveaway
Sign up for my RSS Feed/Email Subscription
This giveaway is open to US residents, 18 years or older and will end on March 9th, 2011 at 6 pm PST. One winner with a valid entry will be selected at random using random.org. I will email the winner and they will have 48 hours to claim their prize.