Pink Squirrel Cocktail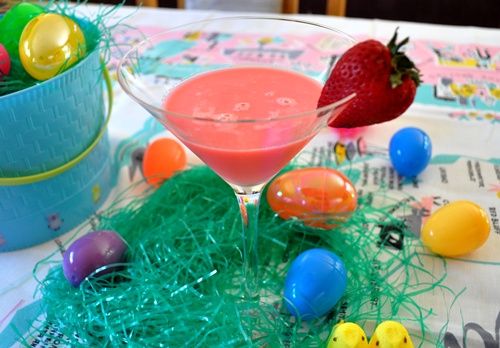 In case I haven't mentioned it before, I'm a huge fan of the 30's, 40's, 50's and early-60's.  I have several pieces of furniture from that era, at least 1/4 of my wardrobe dates from that time period and about half my ipod is made up of swing music.  It's why I dubbed Kitchy Cooking, well… Kitchy Cooking.  But I recently realized I don't have a lot of recipes that hearken back to those laid back days of yesteryear.  So I made a decision.  From now on Fridays will be dedicated to a retro cocktail recipe.
See, my husband and I met swing dancing and we love martinis. Where most people register for wine glasses we registered for a dozen martini glasses.  And while I don't have a dry martini waiting for him when he gets home  from work, (although I'm sure he wishes I would) I do shake them up every so often.  (Yes, we prefer ours shaken, not stirred.)  So since we're such huge fans of the cocktail, I thought why not add them to my blog?
I'm starting with the Pink Squirrel which dates back to 60's.  It was only popular for a couple decades and then faded from view.  It's too bad because it's really a delightful drink.  It's beautiful to look at and it's nice and sweet.  Some might say too sweet, but I think it's perfect as I tend to like my cocktails on the sweeter side.
You may be wondering why I chose the Pink Squirrel to start my cocktail Fridays as opposed to the more classic Martini or Manhattan.  I chose the Pink Squirrel because it's Easter.  And what better drink to have on Easter than something that's bright pink and candy sweet?  And since its made with crème de cacao, it's got a hint of chocolate that makes it the perfect cocktail for this holiday that, let's face it, is all about chocolate bunnies and eggs.
So this Sunday why not give your Easter egg hunt a retro spin and whip up some Pink Squirrels? After all, don't the adults deserve to have as much fun on Sunday as the kids?
Pink Squirrel
(makes 1 serving)
1 oz crème de noyaux
1 oz light crème de cacao
1/2 oz vodka
1 oz cream
Pour all the ingredients into a cocktail shaker.  Add 2-3 ice cubes and shake well for about 10 seconds.  Strain into a chilled martini glass and serve.