Greek Salad Kabobs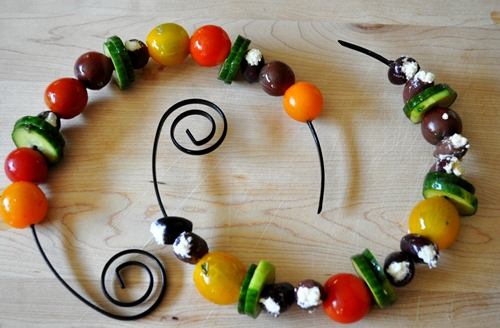 A few weekends ago I was up in the mountains for Camp Blogaway.  In the main lodge was a networking table where the other "campers" could leave their business cards and/or other things for us to add to our swag bag. While I only had my cards on the table, several other campers had recipes, samples of sauces and jams, and a variety of other things for us to take.  A lot of these items were provided by different food companies around the states who were sponsoring some of the bloggers' trips to camp.  One such blogger was the delightful Gisele Perez, who was being sponsored by Lindsay Olives.  That meant Gisele showed up with tons of cans of green and black olives for us to take home.
If you're anything like me, when you hear the word olive you come running. While I'm partial to any and all variety of green olives, I have no problem eating every kind available.  I love black olives on pizza and Kalamata Olives in Greek Salad.  And I'm telling you, if you're an olive fan, Lindsay are definitely top notch.  They're absolutely delicious.  They're so good in fact, several cans made it into my swag bag before the weekend was over.  Don't ask me how they got there though, as I only grabbed one of each.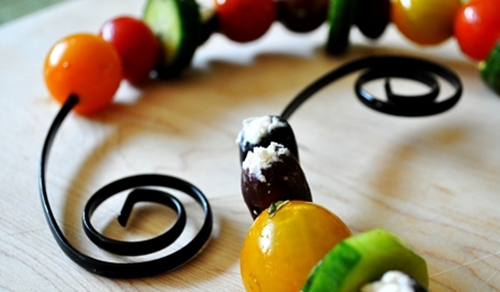 While I do like to eat my olives straight or soaking in a Martini, I also enjoy them in food, and not just on pizza.  I love olive tapenades spread on French Bread and I recently came up with a recipe for a Blue Cheese & Olive Stuffed Chicken that was amazing.  So, since I still have all these olives, and I love Greek Salad, I thought I'd come up with something that'd be great for parties.  Hence, the Greek Salad Kabob was born.
I'm a huge Greek salad fan.  It's practically all I eat during the summer because it's so easy to make and so delicious, especially once the heirloom tomatoes are in season.  So I started thinking, what if I deconstructed it and put it on a skewer? It'd not only be a great appetizer for parties, I could enter it into Lindsay's "Love This Recipe" contest.  So, I made them and they were just as scrumptious as I thought they'd be.  While my skewers are larger, you can just as easily make the skewer smaller depending on whether you'd like them to just whet your appetite or fill you up.
So if you're planning a party or two this summer, rather than putting out the same old chips and dip, make a batch of these Greek Salad Kabobs.  They're the perfect choice for a backyard barbecue.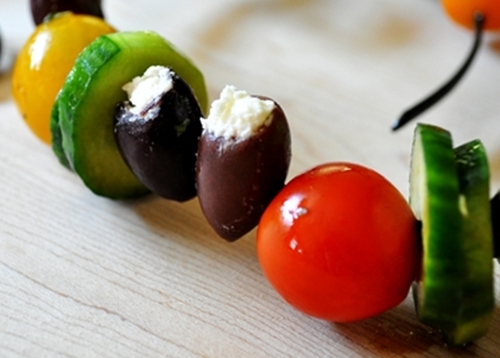 Greek Salad Kabobs
1/4 cup Italian salad dressing
2 Tbsp olive oil
2 tsp balsamic vinegar
2 pounds heirloom cherry tomatoes
2 Persian cucumbers, thinly sliced
1 cup pitted Greek Kalamata Olives
1/3 cup feta cheese
In a medium bowl, whisk together the salad dressing, olive oil and vinegar.  Add the tomatoes and cucumber slices to the marinade and place in the refrigerator for 1-3 hours.
Meanwhile take each pitted olive and stuff it with feta cheese.  Once the tomatoes and cucumbers are done marinating to your liking, thread them on the skewers alternating with cheese-stuffed olives.  Serve.