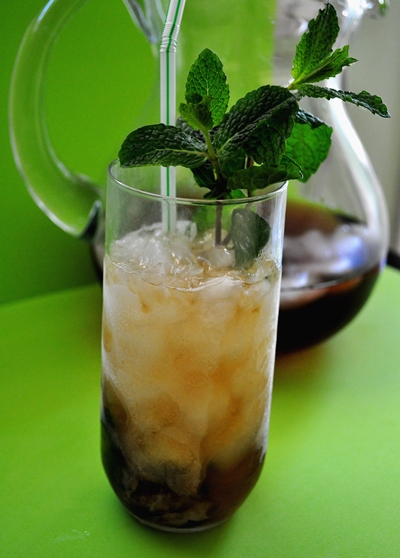 Today is the first day of Blogher Food in Atlanta and I am not attending.  Like last year, I'll be attending the Pity Party instead.  The pity party is made up of a bunch of bloggers from all over who weren't lucky enough to score tickets to Blogher Food.  So we tweet and party and get drunk off all the pity we feel for not being able to make the big event.  And just like last year, I decided to do a post in honor of my pitifulness.
Last year I made White Russian Brownies. This year, since I've started posting classic cocktails on Fridays, I'm bringing you the Mint Julep.  I picked the Mint Julep because not only does it have a serious wallop, it's classically Southern; and since Blogher Food's in Atlanta this year, it seemed like the perfect fit.
What makes the Mint Julep a classic?  It's been around for over a century. While "Mint Julep" didn't appear in print until 1803, it's believed to have been served in Virginia, Maryland, and North Carolina since the mid 1700's. Although the first juleps were made with rum or rye whiskey, it actually wasn't until after the Civil War that bourbon became the liquor of choice because it was a much cheaper alcohol.  But the julep really owes its popularity to the Kentucky Derby.  Legend has it that mint was specifically planted outside the clubhouse at Churchill Downs so that mint juleps could be served at the very first Kentucky Derby in 1875; and now they're the drink of choice at the both the Derby and Derby parties all over the country.
While the Julep can be a hard cocktail to recreate, if done correctly it's a smooth combination of bourbon, mint and sweetness; the perfect remedy to a sweltering summer day when fans and a cool drink are the only things to keep you from melting.  It's true, I won't be sweating the nights away down in Georgia this year.  But don't pity me.  After all I'll be there in spirit as I drown my sorrows with this wonderfully Southern cocktail.  Please, won't you join me?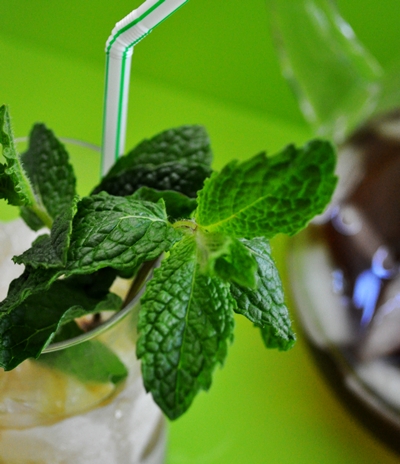 Mint Julep
5 large fresh mint leaves
1-2 tsp simple syrup
3-4 Tbsp good bourbon (I use Woodford Reserve)
crushed ice
mint leaves for garnish
Place mint leaves and simple syrup in a highball glass.  Crush mint leaves with a pestle.  Pour in bourbon and let steep for 10-15 minutes.
Fill glass with crushed ice and stir until glass is frosted.  Garnish with a stem of mint leaves and serve.