Zombie Cocktail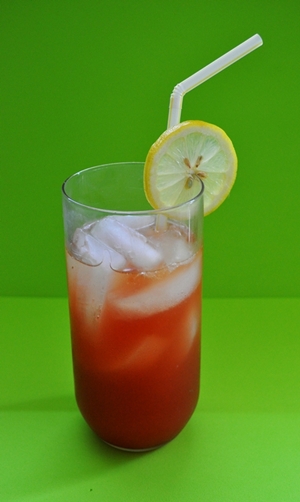 As I mentioned in my previous post Sunday is Mother's Day.  So in honor of all the moms out there, I bring you The Zombie cocktail.
Now you're probably wondering why on earth I'd pick the zombie to represent Mother's Day.  That's easy.  See, almost 2 years ago my son, Aidan, was born.  And his birth not only brought with it a slew of joys and trials, it also provided me the opportunity to meet a wonderful group of women who had also recently given birth.  Most of us met at a breast feeding class and then we started hanging out on Thursdays.  We'd all bring food and just hang out and talk. We'd talk about the kids, our lives, our husbands… sometimes it turned into a venting session and sometimes it was all laughs. But it didn't matter what the get together turned into, we all became unbelievably good friends.
Cut to today. While the group has thinned due to people moving away or going back to work, we still get together to hang out every chance we get. But something else has changed too.  All of them, save three of us, are pregnant with their second child.  A few of them have actually already given birth.  So now the talk has not only turned to the terrible twos and time outs, but how tired everyone is.  One of my mommy friends even said she feels like a zombie because she's so tired.  I know what she's talking about, because while I'm not pregnant, there are plenty of days when I'm so tired I hit the sack very soon after my son.  (I won't tell you what time because it's so embarrassing.) But even with all the zombiness, we're all still getting through each day and raising our children with the utmost love and affection.
Why is the Zombie a classic cocktail?  It was created just after Prohibition in 1934 by a restaurant in Hollywood called Don the Beachcomber.  But it supposedly didn't become popular until its debut at the 1939 World's Fair. Whenever it came into existence, everyone can agree it was sometime in the 30's.
It's a tropical drink made with at least three different kinds of rum and at least 1 or 2 fruity mixers; so you can understand how it got its name.  I mean with that much alcohol, it has the definite potential of turning anyone who consumes it into the walking dead.  And god knows there have been plenty of days just raising my baby has left me feeling zombie-like.
So to all the moms out there who have raised infants and toddlers, either 1 or 2 or 3 at a time. Treat yourself this Mother's Day and have a nice tall zombie.  And to my moms, I don't know where I'd be without each and every one of you. Thanks and Happy Mother's Day.
Zombie Cocktail
1 oz lemon juice
1 oz dark rum
3/4 oz orange juice
1/2 oz cherry brandy
1/2 oz light rum
a couple splashes of grenadine
1/2 oz 151 dark rum
Pour the lemon juice, dark rum, orange juice, cherry brandy, light rum, and grenadine into a cocktail shaker with ice. Shake well and strain into a tall highball glass filled half way with ice.
Float the 151 on top by pouring it into a spoon and dipping it under the surface of the drink.  Garnish with a lemon wedge or slice of pineapple. Serve with a straw or hammock, depending on how many you want to consume.