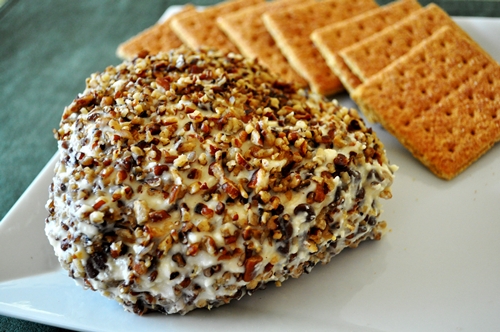 Since I've started doing my daily dinner column over at She Knows I've been buying food magazines like you wouldn't believe.  I mean, I love to cook, but I don't have the time (or the energy) to create my own dinner recipes five days a week. Once or twice a week, sure, but five… no way.
Anyway, the benefit to this is I'm discovering food magazines and recipes that I didn't know existed.  Out of all the ones I've grabbed at the check out I think my favorite is Taste of Home.  They're recipes from regular people like you and me who have won contests or sent them in and then the magazine publishes them.  It's pretty cool.  I mean, how many of you are using recipes your parents or girlfriends or boyfriends made?  I know about half the desserts I make are from my mother.  And there have been plenty of times a good friend has made something and I've asked for, or rather demanded, the recipe.
So in their most recent issue, 100 Best Recipes, I found a recipe for a chocolate chip cheese ball. I know it sounds weird, but the description, "it tastes just like chocolate chip cheesecake", was so intriguing I just had to try it.  Of course whenever cheesecake's involved, I always have to try it.  (There's another recipe in the magazine that's for a pesto swirled cheesecake and I can't wait to make that one either.) I'm so glad I tried it. The outcome was as good as the picture attested. It was a sweet cheesy masterpiece that was delicious by the fingerful or spread on top of graham crackers.
I just had one problem: the ball didn't really hold it's shape. I think I may have stirred it too long and that's what caused the cheese to lose its consistency, thereby not staying in ball form.  By the time I was done, the "ball" looked more like a flat egg as you can see from my picture.  It was still scrumptious, but I think the next time I make it, I'm going to pour all the sugar in at once so that I don't have to stir for as long and the cheese will (hopefully) hold its firmness.  But however your ball turns out, if you like chocolate chips or cheesecake you should absolutely add this to your dessert index.  I've added it to mine.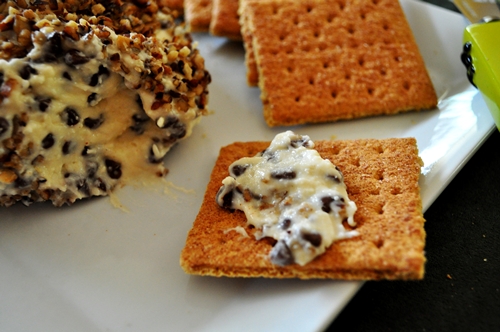 Chocolate Chip Cheese Ball
1 (8 ounce) package cream cheese
1/2 cup butter at room temperature
1/4 teaspoon vanilla
3/4 cup powdered sugar, sifted
2 tablespoons brown sugar
3/4 cup miniature semisweet chocolate chips
3/4 cup pecans, finely chopped
1 box of Graham Crackers
In a large bowl, beat the cream cheese, butter and vanilla until smooth and fluffy.  Add the sugars and beat until just combined, about 1 minute. Stir in the chocolate chips. Cover and refrigerate for at least 2 hours.
Place cream cheese mixture on a large piece of plastic wrap and shape into a ball.  Refrigerate for at least 1 hour. (This can all be done the night before and left in the refrigerator over night.)
Just before serving, unwrap the ball and roll in pecans.  Serve with graham crackers.