Corny Cupcakes for the 4th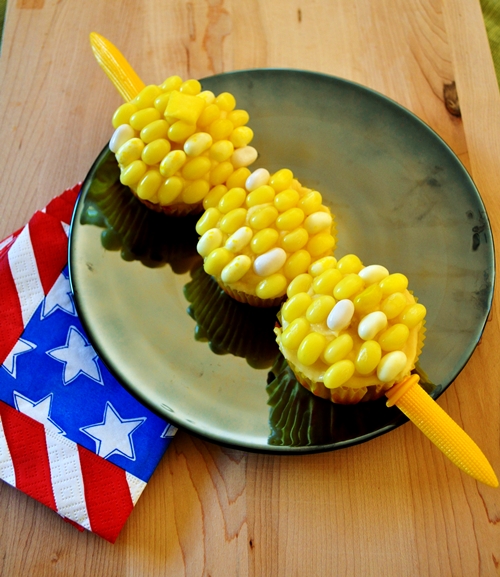 I hate going to the doctor's office. Not because I don't like seeing the doctor, but because I hate waiting to see the doctor.  See, whenever I have an appointment, I try to get there at least a few minutes early, that way if they're ready for me when I'm actually scheduled, I'll be there and they won't skip me to go on to the next person.  Of course, they never call me at the specific time I'm supposed to be seen and inevitably I end up waiting… and waiting. It used to be torture because there were rarely any good magazines to read in the waiting room. But now that I'm scouring any and every magazine I can find for new and interesting recipes, I find  that these days I don't mind waiting so much. I actually kinda like it because it gives me the chance to find a cool recipe and if I'm really discreet, tear it out so I can try it at home.
Well, it was during one of these interminable waits that I came across this recipe for cupcakes that look like corn on the cob. The original recipe was on the cover of Women's Day. And I mean, look at the picture. Who wouldn't want to recreate these cool looking cakes? Not only that, it finally gave me the opportunity to try and make brown butter.
I've wanted to make brown butter ever since I first read about brown butter cookies. But I've been avoiding it for quite some time because the few times I've tried to make it, my brown butter becomes burned butter.  But this recipe inspired me. I was determined to do it and do it well, and since the 4th of July is coming up, I thought it was the perfect opportunity to give brown butter one more try. And guess what? This time, my brown butter didn't burn. It actually became what it was supposed to: brown.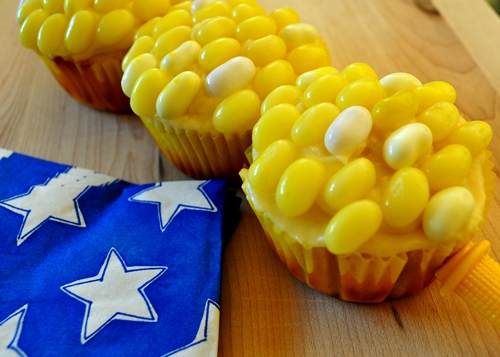 Now you're probably wondering what brown butter is. It's just that, butter that has been cooked long enough to brown but not burn. And the key to brown butter is watching it. If you look away for a minute too long it will burn. So that's the key, watching the butter cook and taking it off the heat as soon as it starts to turn color and acquire a nutty smell.
Once I had mastered the brown butter the rest of the cupcakes were easy. I just made cupcakes the way I'd made dozens of other cupcakes recipes. After they were baked and frosted, the hardest part was lining up all the jelly beans to look like rows of corn. But the time and effort it took lining up all those jelly beans was well worth the wait because they were just as yummy as any cupcake I'd made prior.
So for this 4th, instead of making corn on the cob to go with your fried chicken, why not make these corny cupcakes? You'll have a side and a dessert all in one.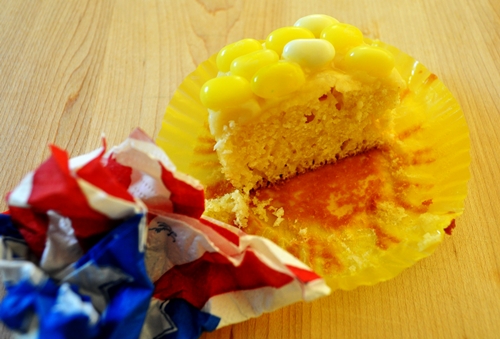 Corny Cupcakes
Cupcakes
1 stick of butter
1-1/2 cups of sugar
2 eggs
1-1/4 cups whole milk
2 tsp vanilla extract
2-1/2 cups flour
1/2 cup yellow cornmeal
2 tsp baking powder
1 tsp Kosher salt
Frosting
3/4 (1-1/2 sticks) of butter
1 (16 ounce) box of powdered sugar
1 tsp vanilla
5 tablespoons milk
16 corn holders, assorted yellow and white jellybeans, and 4 yellow Starbursts
Heat oven to 350°F. Line 2 cupcake tins with yellow or white baking liners.
In a large bowl beat the butter and sugar together until they're light and fluffy.  Add the eggs one at time until combined. Add the milk and vanilla.
In a medium bowl whisk together the flour, cornmeal, baking powder and salt.
Gradually add flour mixture to butter mixture and mix until well combined. Divide the batter among the muffin cups and bake until a wooden pick inserted in the center comes out clean, 20-23 minutes. Let cool completely before frosting.
While the cupcakes bake, make the frosting. Melt the butter in a medium sauce pan over medium-low heat and continue cooking, swirling the pan until the butter begins to brown and smell nutty, 4-5 minutes; remove from heat.
Using an electric mixer beat the browned butter, powdered sugar, milk and vanilla until fluffy, about 3 minutes.
To decorate the cupcakes: work in batches of three at a time. Frost, then arrange rows of jelly beans close together on each cupcake. Place the cupcakes side by side on a plate or platter and insert the corn holders at each end so they resemble an ear of corn. Cut a Starburst horizontally in half and flatten one half slightly. Place flattened fruit chew on top of the "corn" to resemble a pat of butter.  Repeat with remaining cupcakes and serve.