Hippo Cupcake Cake and a Giveaway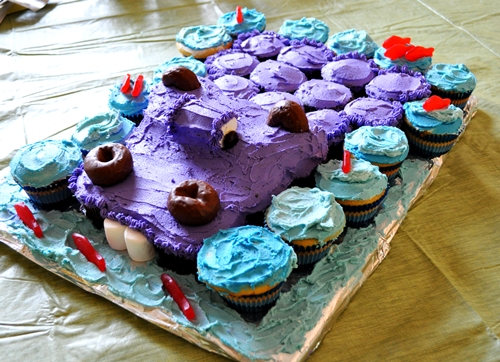 This Giveaway is now closed.
A little over a month ago was A's birthday.  He turned two. And since several of his friends all have birthdays around the same time, I and a couple of my mommy friends decided to share the party. After all, at the age of two, the party's still kinda for the parents and this way A would be able to celebrate with his friends as opposed to missing their parties just to keep the parents and grandparents happy.
So the other moms and I decided to do a jungle themed party.  We got a tiger-shaped bounce house, jungle-themed party favors and made three jungle-themed cakes.  There was an alligator, a lion and a hippo made out of vanilla and chocolate cupcakes.  We thought cupcakes would be the best way to go since the party was at the park.  That way we didn't need to bring a knife and everyone could just grab a cupcake and enjoy.
So while I won't be giving you a recipe for cupcakes as there are plenty of them out there, what I will do is explain how you turn those plain chocolate and vanilla cupcakes into the hippo cake you see above. Even better, I'll be giving away several items you'll need to create this awesome cake thanks to Wilton.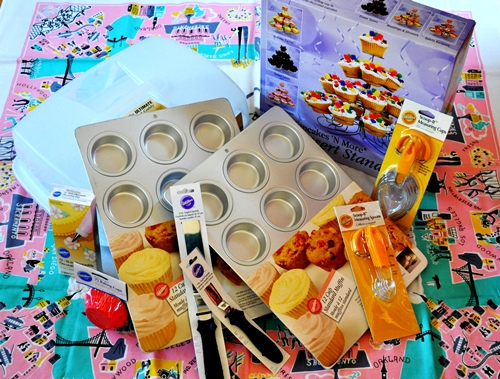 See, I've been using Wilton products for awhile and absolutely love them. Not only are they insanely affordable, they work amazingly well.  My favorite has to be their frosting spatulas.  If you're anything like me you know that while that rubber spatula or knife you've been using to frost cakes and cupcakes works fine, an angled frosting spatula works So. Much. Better!  So, since I'm such a huge fan of their products, Wilton gave me a whole cupcake kit worth about $125 to give away to one lucky Kitchy Cooking reader.
Here's what you'll get:
2 cupcake tins
1 set of measuring spoons
1 set of measuring cups
The Ultimate 3 in 1 Cupcake Caddy
A cupcake stand that holds 23 cupcakes
A 13 inch frosting spatula
A 9 inch frosting spatula
A set of 75 colored baking cups
12 16 inch disposable decorating bags
3 decorating tips
So even if you've never made cupcakes before, this kit will have you whipping up a batch whether you have a birthday to celebrate or just want to make Monday night dinner a little extra special.
Here's how you win: (Main entry required) This Giveaway is now CLOSED.
Go to Wilton's site and peruse all their amazing baking items.  They do a lot more than just cupcakes.  Then come back here and tell me what you absolutely must have (other than the items shown here) to make your baking dreams come true.
Want extra entries?
Each item you do will get you one chance to win (for a total of five chances). If you already do any of these things they do count! So make sure to leave a separate comment for each item.
Go like Wilton on Facebook.
Go like Kitchy Cooking on Facebook.
Follow @kitchycooker on twitter and tweet the following statement:   I just entered to win a cupcake baking set from @kitchycooker and Wilton. Have you? http://bit.ly/k5lo8S
Subscribe to the Kitchy Cooking RSS feed.
The Fine Print
This giveaway is only open to residents of the 50 United States. (Sorry it's a big package and shipping's expensive!)
Giveaway will end on June 22, 2011 at 6 pm PST. One winner with a valid entry will be chosen via a random number generator at random.org.  The winner will then be notified via the e-mail they provide when they leave a comment.
Winner has until June 26th at 6 pm PST to claim their prize or I'll pick another winner.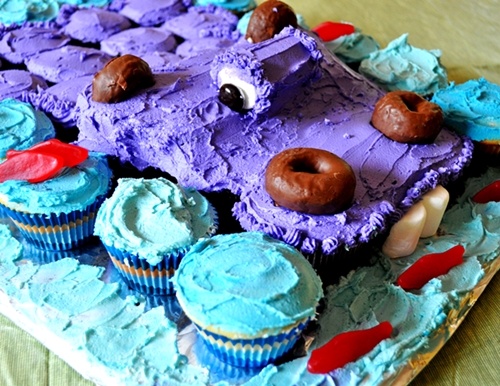 Now that I've laid out all the nitty gritty details, here's what you've all been waiting for – How to make your Hippo Cupcake Cake.
Hippo Cupcake Cake
What you'll need:
a board that's at least 15×20 inches
tin foil
48 cupcakes, your choice of flavor(s)
a large batch of homemade buttercream frosting
3 mini chocolate donuts
3 large marshmallows
2 junior mints
1 bag of Swedish gummy fish
Directions
Take your board (I used a wooden cutting board) and wrap it in tinfoil.  This is where you're going to put together your cake.
Since the hippo's floating in water you're only going to see the top of the hippo's body and its head.  So, for the hippo itself you're going to need 20 whole cupcakes and 3 cupcake tops.  For the body of the hippo I made two rows of 4 cupcakes each and 1 row of three cupcakes.  For the head of the hippo I made three rows of 3 cupcakes each.  The back of the head where the ears and eyes are needs to be a little higher than the hippo's snout, so I placed 1 cupcake top on top of each whole cupcake making the last row double decker cupcakes.
Frost each cupcake with purple frosting, smoothing the frosting over the head so all the cupcakes look like 1 large cake.
Cut 1 mini donut in half and place each half, cut side down, on the right and left sides of the top of the head to represent the hippo's ears.
Take the other two donuts and lay them flat on the right and left sides of the front of the hippo's head to represent the hippo's nostrils.
Take two marshmallows and frost them into a cylinder with purple frosting for the eyes.  Make sure you leave the ends unfrosted.  Place the eyes on the head of the hippo between the donut ears and press two junior mints onto each end of the marshmallow cylinder to represent the pupils.
Take the third marshmallow and cut it in half lengthwise.  Press the flat halves onto the front center of the hippo's snout to represent the hippo's teeth.
Frost the rest of the cupcakes with blue and/or blue and white frosting. Surround the sides and rear of the hippo with these blue cupcakes to represent the water that the hippo's floating in.
Take as many gummy fish as you'd like to use and stick them in the blue frosted cupcakes so they look like they're jumping out of the water around the hippo.
If you have space on your serving platter and left over frosting, feel free to frost the board with blue frosting and add a few more fish.