Bloody Mary Cocktail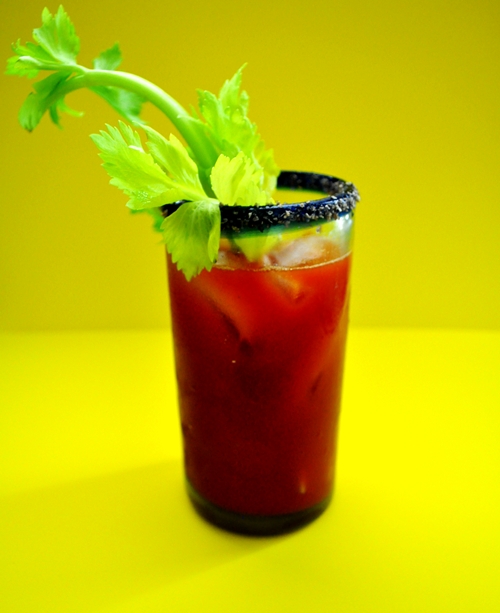 I've never been a fan of Bloody Marys. I don't know why. I mean, I love tomato juice and I love vodka, but for some reason when those two liquids are mixed together it turns my taste buds cold. Then again, I'd never been a fan of bourbon until a friend introduced me to Woodford Reserve and now I love a good Manhattan. So I thought now that I was older and had developed a palate for cocktails, the same thing might happen. I was wrong. I'm still not a fan and unfortunately I can't tell you why.
What I can tell you is that while the Bloody Mary is still not a favorite of mine, it is a classic. The cocktail has been around since the '20's. It was supposedly created by Fernand Petiot, an American bartender working at Harry's New York Bar in Paris. Petiot said he came up with the name when a patron told him the drink reminded him of the Bucket of Blood Club in Chicago, and a girl there named Mary.
Petiot brought the drink to the states in the mid-30's when he started working at the King Cole Bar in New York. The owners of the bar actually wanted to change the name to Red Snapper but that name didn't have the same stickability as Bloody Mary. It was also in New York that the Bloody Mary became the cocktail we drink today all because Petiot's patrons demanded a spicier drink. So since the customer's always right, Petiot added black pepper, Worcestershire sauce, lemon, and Tabasco and voila, the Bloody Mary that most of us love today was born.
Although I put my own spin on the cocktail by using My Spice Sage's Applewood Smoked Sea Salt, the rest of the ingredients are what were used during the '20's when the cocktail was created. And if you don't have smoked sea salt, Kosher salt works just as well.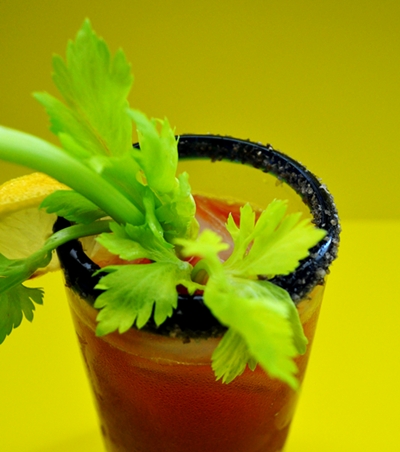 Bloody Mary
2 ounces vodka
3 ounces tomato juice
1/2 ounce of lemon juice
3 dashes Worcestershire sauce
2 drops Tabasco sauce
1 teaspoon smoked sea salt
1/2 teaspoon ground black pepper
Rub the rim of a high ball glass with lemon juice and dip into smoked sea salt.
Combine all the ingredients in a cocktail shaker with ice. Shake well and strain into a high ball glass over ice. Garnish with a lemon wedge and a celery stick.