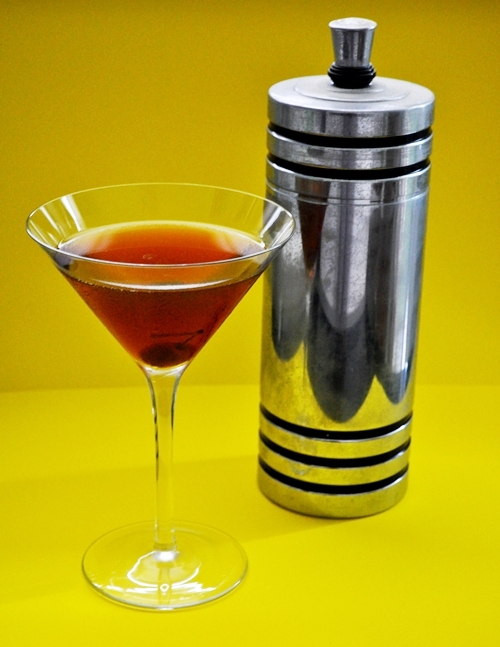 Psst… I have a secret to tell you.  I love to swing dance. Don't tell, but I've been swing dancing since before Swingers and the big swing craze that followed in the 90's. It's actually how I met my husband. Yes, just like that couple in the movie.
Anyway, during all my club hopping there were a few drinks that were commonly imbibed. The martini, of course. The cosmopolitan and the Manhattan. The cosmo was usually my drink of choice, but several of my swinging friends were manhattan drinkers. I never really went in for the manhattan because it's whiskey based and I'm not a big whiskey fan. But now that I'm a little older and enjoy an occasional bourbon-based cocktail, I thought it was time to give the Manhattan another try, especially since I've created my own maraschino cherries.  And boy am I happy I did. Because I got a smoother rye whiskey, the Manhattan was mellow, rich and seriously smooth. It went great with a delicious piece of rich chocolate.
Like most cocktails, the taste is going to depend on the alcohol you use. If you like a cocktail with more bite, you're going to want to go with a more bold, hearty whiskey. But if you're like me and enjoy a cocktail with a smooth finish, then I'd recommend going with a quieter, mellow tasting whiskey. The rye I purchased for my manhattan was a brand called Redemption.  It was recommended to me because I'm a fan of Woodford and Bulleit, both of which are more mellow bourbons.
Rumor has it the Manhattan was first created by a bartender in 1846 trying to revive an injured duelist by mixing rye, sugared syrup, and bitters.  There's another, more popular story that the Manhattan was created at the Manhattan Club in the early 1870's  during a party for potential presidential candidate, Samuel J. Tilden. Supposedly Dr. Iain Marshall created the drink for the hostess of the party, Lady Randolph Churchill (Winston Churchill's mother).  The party was such a big success that people started ordering the cocktail and calling it by the name of the bar where they'd first tasted it. Whichever the real story, the Manhattan has stood the test of time as one of the true classics battling only the martini in its strength and popularity.
Manhattan
2 ounces rye whiskey
1 ounce sweet vermouth
2 dashes of Angostura bitters
1 maraschino cherry
Pour the whiskey, vermouth, and bitters into a cocktail shaker filled with ice. Shake well and strain into a chilled martini glass. Garnish with the cherry and serve.