A Visit to New Orleans – Best Lunch and Dinner Places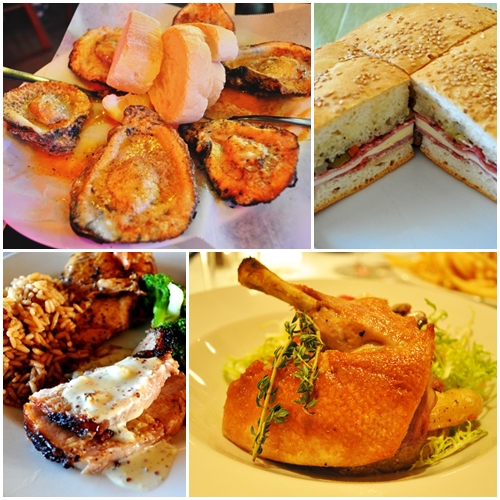 In case you haven't heard, New Orleans is a wonderful place to eat. Between the Southern location and the French food, you'd be amazed at all the different cuisines found in one little city. And it's all awesome… if you know the right places.
As I stated in my previous post, I was only there for three days, so I was unable to hit as many restaurants as I would've liked, not to mention all the recommendations I received from several bloggers and friends. But I was able to hit a handful that were all wonderful and absolute musts if you're planning on heading to the Big Easy.
Let's start with lunch: Several people recommended the same two places to me over and over again. So, of course, I knew I had to try them. The first was Acme Oyster House. If you want sea food, this is the place to go, as noted by the line outside and the fact that Acme's been around since 1910.  While seating is based on a first come, first served basis, the food is well worth the wait. And in case you're unsure of what to order, don't worry, I'm here to help.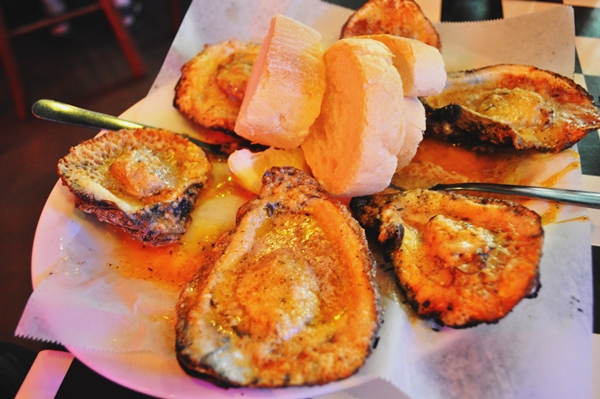 The Chargrilled Oysters and Peace Maker Po-Boy came highly recommended and I can see why. They were both awesome. The chargrilled oysters were the best I've ever had. My husband actually had to stop me from licking each and every shell. They also come with several pieces of bread which is a good thing. That was how I was able to soak up every last bit of that amazing seasoned garlic butter each oyster was swimming in.
Then hubs and I dove into the Peace Maker. Now I'm not a huge fan of po-boys because they're usually so deep fried and so incredibly spicy. But Acme's was neither of these things. The sandwich was nice and light and had the slightest bite. In other words I was still able to enjoy my meal without downing an entire pitcher of water like I've had to do with other po-boys I've tried.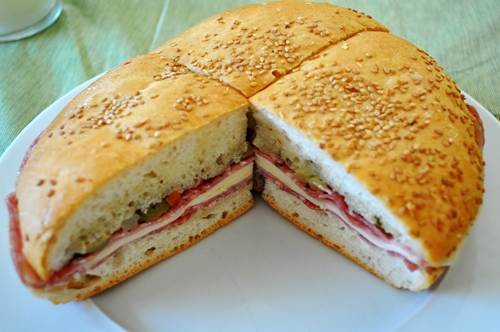 But if you're more of a sandwich person then you're going to want to stop at the Central Grocery on Decatur. While other places in the French Quarter make muffulettas, no body can compete with the Central Grocery. The sandwich was created by the store's owner, Salvatore Lupo, back in 1906. And the recipe has stood the test of time. As a matter of fact, Lupo's grandson is now the man serving them up. They're so popular, he makes a bunch first thing in the morning so they're ready to go when the lunch rush hits.  What makes them so amazing? The Central Grocery's own olive salad, which you can buy by the jar so you can make your own muffuletta at home.  If you don't want to stop your touring of the French Quarter but are dying for something to eat, this sandwich is the way to go. And as you can see, one sandwich is easily enough to feed two people.
Then there's dinner and just like lunch there are several different options whether you're looking for something a little bit more touristy or a nice quiet place to sit down and have an amazing meal.
Since G and I are huge swing dance fans we had to take a trip on the Steamboat Natchez. It's a classic riverboat, the last working one in New Orleans actually, and they not only serve dinner, but they have a live swing band that plays while you trip up and down the Mississippi.  Okay, so the food wasn't amazing. It's what you'd expect from a corporate sort of tourist locale. But the trip was definitely worth the money.

There was nothing better than taking a smooth, quiet trip up and down the Mississippi the way they used to when dinner and dancing on steamboats were as commonplace as drinking a mint julep in the summer. And the Dukes of Dixieland, the swing band that performed on the upper deck, provided the perfect accompanyment to a wonderful evening. The Steamboat Natchez may be a tour for tourists, but if you love swing music and want to take a trip down the river, this is absolutely the way to go. It's fun for the kiddies too since they can take a trip on a boat and see how a real steamboat works.
If, however, you're looking for something off the beaten path that's at the other end of the spectrum from the Natchez, Meauxbar is the place. As a matter of fact, it's so off the beaten path, even though it's been around for eight years, most locals don't even know about it. They only serve dinner, and it was ah-MAZ-ing! Hubs and I each ordered something different and every single bite was better than the last.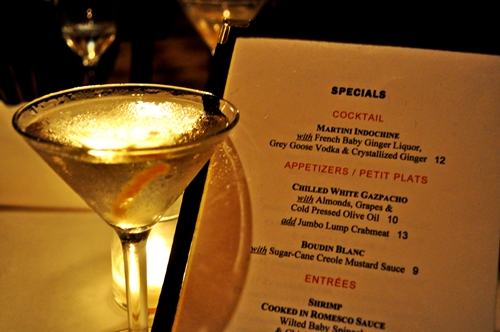 We started dinner with the Martini Indochine which is their signature cocktail. It's made with ginger liqueur, vodka, and crystalized ginger. Oh. My. God. It was sweet with just the right amount of zing, though I'm not sure that zing came from the ginger or the liquor. But be careful, a couple of these and you may not be able to finish dinner.
We shared the boudin blanc and ginger crawfish dumplings for our appetizers. Both were great, but the boudin blanc, which was made in the kitchen that day by chef Matthew Guidry, was the real winner. The sausage had a definite bite, but the sweet sugar-cane mustard sauce helped tone down the spiciness.  Dinner was the duck confit and a double-cut pork chop and, no surprise, the food just kept getting better and better. I could go on and on about the different courses at Meauxbar, but I won't. Let me just say, if you're visiting New Orleans and the French Quarter, whether you're staying for one night or 10, RUN, don't walk, to Meauxbar and plan on making a night of it.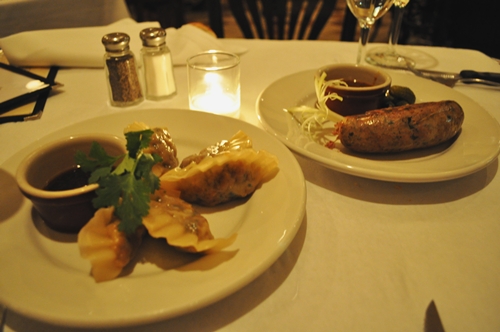 In fact, every place I ate while we were in New Orleans was sprint-worthy. So make sure you hit at least one of these spots when you visit. I guarantee, you'll be extremely happy you did.