A Visit to New Orleans – The Best Breakfast Places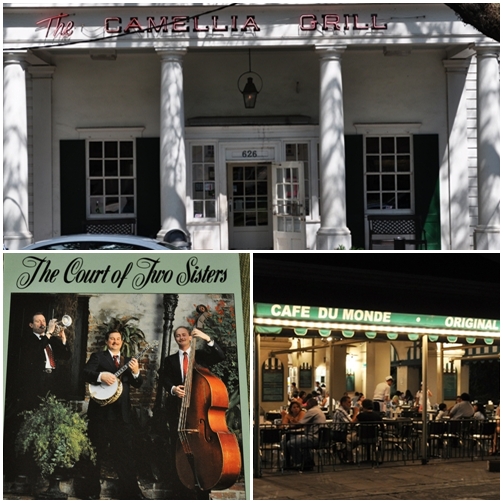 A couple weeks ago the hubs and I decided to take a quick trip together, just the two of us. It was going to be all about relaxing and spending some much needed time together. But of course, since I'm the foodie that I am, I was very up front about the fact that there would be a lot of eating while we were there. It wasn't too hard to twist his arm, he just had one request: we had to eat out for every meal… just so I could get a well rounded view of all the food New Orleans had to offer of course. So it was set and thanks to several recommendations from a lot of different foodies we had a plan.
I'm starting my New Orleans posts with breakfast places since breakfast is the most important meal of the day.
Although G and I were staying in the French Quarter I was told by a few people there was a diner in the Garden District that was well worth the trip, and it's an easy trip to make. We just hopped the street car and took a lovely ride through said district to the Camellia Grill. The leisurely ride allowed us to see all the beautiful houses that make you think of New Orleans, it's only a couple bucks, and if you have young children, a ride on a trolley is always a great way to kill some time while getting where you need to go.
When we got to the Grill, we were greeted with a bustling diner that only had a handful of seats at a counter. But don't worry, the wait is so worth it. Since they're known for their omelettes, waffles, and pecan pie, that's what we were having. I know, I know, pecan pie isn't considered breakfast food, but since it's made right in their kitchen every day, I just had to try it. Although the waffle was nothing special, the omelette that hubs had and the pecan pie I sampled were out of this world. Now, there is a Camellia Grill in the French Quarter but it just opened up in December and since Kitchy is all about the retro thing, I had to try the original which opened in 1946 and I'm very happy I did. So, if you want some classic Southern hospitality and some outstanding food, I'd recommend hopping the street car and taking a ride, you won't be disappointed.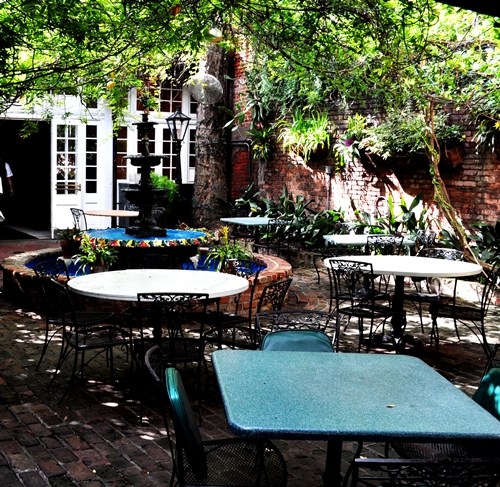 Then there's The Court of Two Sisters which is located right in the heart of the French Quarter.  They have a wonderful Jazz Brunch Buffet every day of the week starting at 9 am.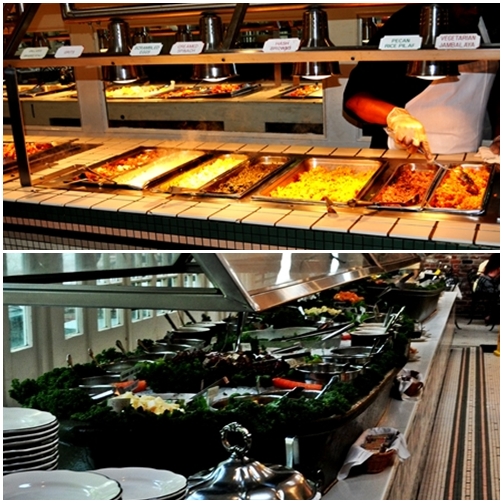 And by buffet, I mean over 80 different items from which to choose as well as a full bar. You could have scrambled eggs and french toast or one of several salads to go with their gumbo. They have some seriously delicious grits and their bread pudding is awesome.
But what makes The Court of Two Sisters the perfect place to take the family is the outdoor patio and the jazz trio that plays all through brunch. The patio's covered by vines, greenery and ceiling fans, so even in the middle of August it's never too hot outside. They do seat inside as well though, so if the heat and humidity is just too much for you, it's very nice indoors.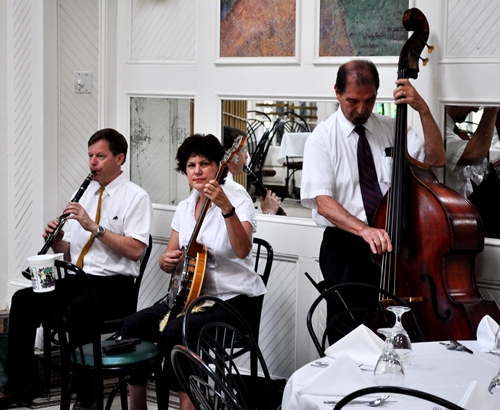 And if you're worried about missing out on the jazz trio, don't. They rotate between the two locations. They seem to play for about 30 minutes at a time in each location. So while you won't hear dixieland for your entire meal, you'll definitely have it for a good portion.
And now for the best known place in the French Quarter – Café Du Monde. The cafe has been around since 1862 but was originally located inside the French Market. Now it's located right on the corner of Decatur and St. Ann streets. Café Du Monde may be open 24 hours, but we decided to hit them up first thing in the morning because there's nothing better than a hot cafe au lait and beignets after a long night at the various jazz clubs on Frenchmen Street.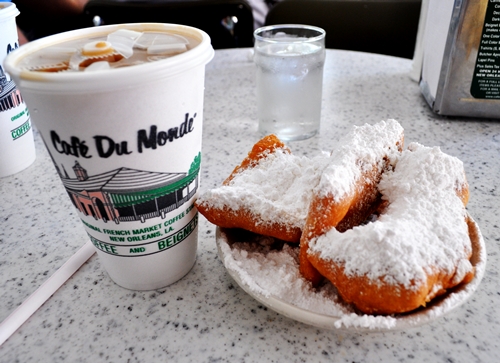 While it's true, the café's menu is limited, (they only serve coffee, [black or au lait] beignets, orange juice, soda, and white or chocolate milk) they serve them well. The cafe au lait I had was delicious and the beignets… well other than there being a little too much powder sugar for even my sweet tooth, my plate was empty in a matter of minutes. Look at them, can you blame me? I debated buying the actual Café Du Monde beignet mix, but decided since I don't own a deep fat frier, they just wouldn't be as good.
So those are my breakfast choices for New Orleans. If you're curious about the other meals of the day, lunch and dinner, don't worry, those are up next. As I said, we ate, or rather devoured, our way through New Orleans.