Watermelon Mozzarella Salad
A few posts back I mentioned how I'd participated in a monthly chat on Twitter called Spice Chat. The spice of the month had been basil and over the course of the chat several people tweeted about using fresh basil in fruit salads. So since it's watermelon season, I started thinking how yummy a watermelon basil salad would be.
But watermelon and basil seemed kinda boring, so I wondered what I could add to make it better. I knew balsamic vinegar went well with watermelon and then I read somewhere, though I don't remember where exactly, about buffalo mozzarella and watermelon being a good combination. And just like that I had my salad: watermelon, fresh basil and buffalo mozzarella drizzled with a little balsamic. Yum-my!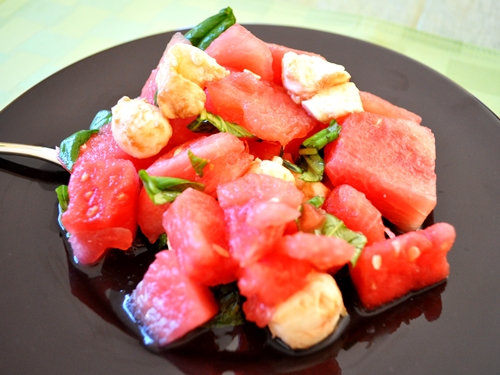 Now there was just one thing I needed in order to make the salad perfect.  I had to use a high quality balsamic that was nice and sweet.  Luckily I had just the thing.  See, over the Memorial Day weekend my family and I traveled to San Diego for a quick little getaway. While we were there we visited Seaport Village, a fun little shopping area that has several restaurants and plenty of places to fly a kite. While chasing my son around, I happened upon a new oil & vinegar shop: Seaport Oil and Vinegar. I don't know about you, but oil and vinegar are like my flour and butter. I use them constantly in everything from salad dressings to pasta sauces. So when I discovered that Seaport Oil and Vinegar not only sold plain olive oil and vinegar, but flavor infused oils and vinegars, I knew I had to try some.
If you like garlic, I'd highly recommend their garlic olive oil. But their flavored balsamics are really special. The cherry balsamic is wonderful over steak and their strawberry balsamic is perfect for fruit salads like this one. So of course that's the balsamic I used.  But even if you don't have a flavored balsamic, any good quality balsamic vinegar will work.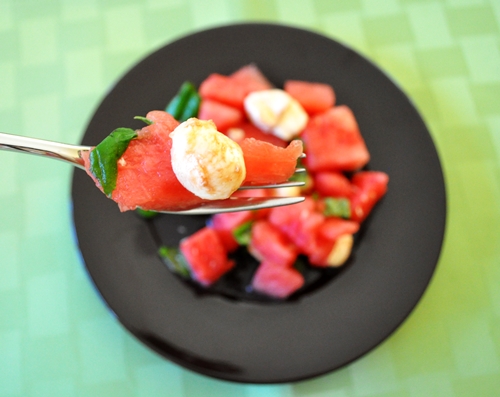 Watermelon Mozzarella Salad
4 pounds watermelon, cut into 1 inch cubes
1 cup buffalo mozzarella, halved
3/4 cup fresh basil, chopped
1 Tbsp balsamic vinegar
Place first three ingredients in a large salad bowl. Drizzle with balsamic and toss to combine. Serve.