A Visit to New Orleans – the Vintage Bar Scene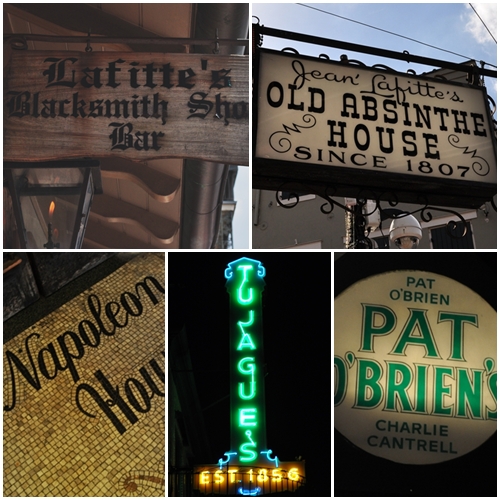 Just as New Orleans is a great place to eat, it's just as awesome a place to sit down and get a cocktail. And while you may be thinking Bourbon Street is the place to be, it's not. Yes, there are plenty of bars on Bourbon, but they're not the kind of places you can go and have a quiet conversation over a nice sazerac. If you want loud, obnoxious techno music or an awful Guns N' Roses cover band, Bourbon Street is the place to be. But if you want a quiet bar with some serious history and a classic cocktail, there are plenty to choose from in the French Quarter; and only a few are actually located on Bourbon Street. But since there are a couple, I'll start with those.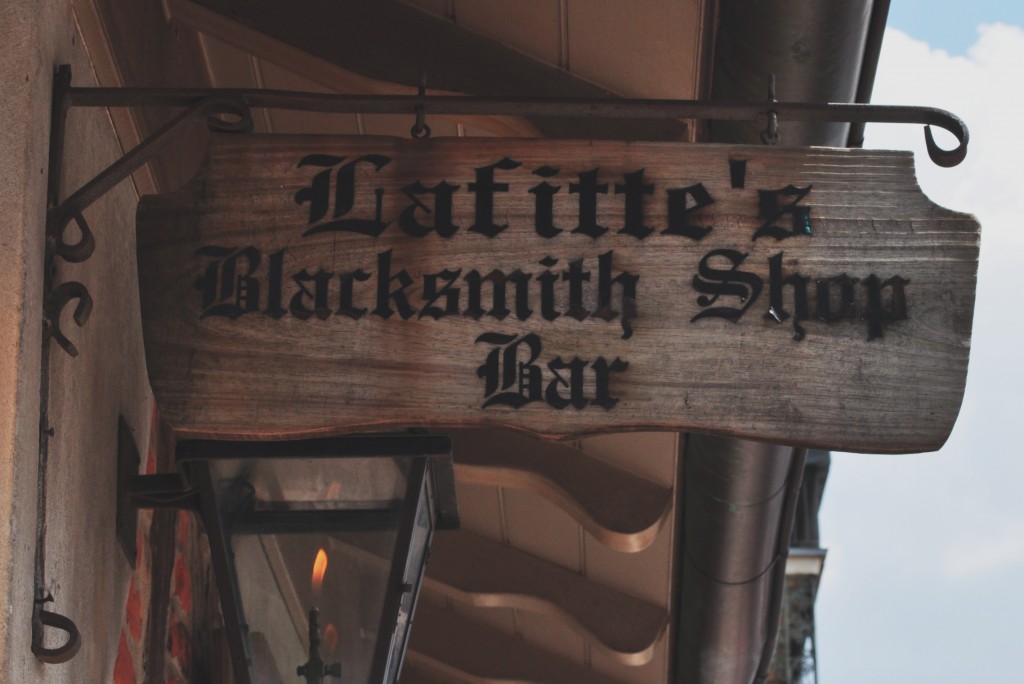 The oldest bar in New Orleans also happens to be on Bourbon, but it's in the 900 block so it's a few blocks away from the insanity. Lafitte's Blacksmith Shop was built between 1722 and 1732 and was used as a blacksmith shop when it was first built. Somewhere down the line it was transformed into a bar, but maintained its old brick charm. With a stone fireplace at its center and a cement floor, it's clear that this bar has seen a lot in its almost 300 years. Their signature cocktails are the Hurricane (which you can get at just about any bar in the city) and the Voo Doo daiquiri. The Voo Doo, their own creation, is a bright purple slushie for adults. I couldn't tell you what was in it, but I can tell you it's the perfect way to beat the heat and humidity. Be careful though, after a few sips you may need to find a place to sit down just to regain your balance.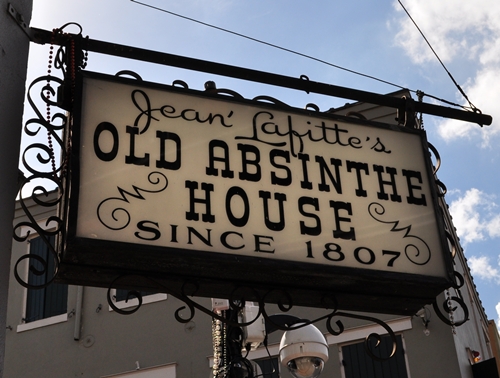 The other bar on Bourbon is The Old Absinthe House; and yes, absinthe is their specialty. As a matter of fact they have four different kinds. But unless you're a serious absinthe fan, there are better bars. First off while the bar is from 1807, it doesn't have the feel of some of the more classic bars around town. It's really the French Quarter's version of a sports bar and we while it was pretty empty when we stepped inside, we were told that once football season started, the place is packed.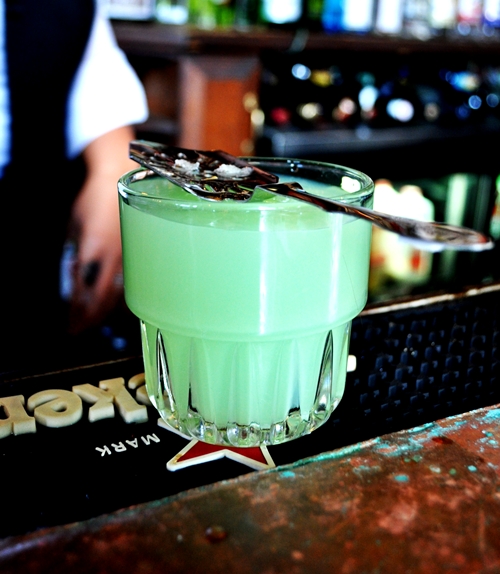 The other problem I had with the bar was their drinks were not cheap. A simple absinthe frappe, what the bar is actually known for, was $18, more than most cocktails we had anywhere else.  The cocktail also wasn't anything to write home about.
And since I'm being critical, the other bar to avoid in the French Quarter is Pat O'Brien's.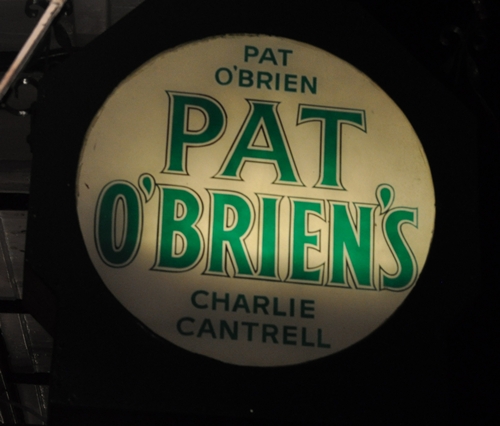 I wanted to go because they created the Hurricane in 1939. So I (stupidly, it turns out) assumed they were going to be the best place to get that classic drink. Boy, was I wrong. They no longer mix up the cocktail. Now if you order a hurricane, they add the alcohol to a mix! That's right, they don't actually add a bunch of different juices and liquors to a cocktail shaker and shake it all up like every other bar in the city, they pour the neon red mix into a tall hurricane glass and add the alcohol. It's soooooo awful. I mean, it actually tastes like kool aid, or some other powdery mixture. We tasted a real hurricane at Lafitte's the next day and you can seriously taste the difference. One's sicky sweet disgustingness and the other's cold, fruity deliciousness. As a matter of fact, we were told (after the fact of course) by several locals that if you want a hurricane DO NOT go to Pat O'Briens. I only wish we'd known that before we walked in. Pat O'Briens does have a nice outside patio and a great dueling piano bar, but as far as their cocktails go, there are better bars to choose from.
Now that I've listed to the two classic bars to avoid, let me tell you about a few that you want to run to. First up is Tujague's. As the sign boasts, they've been around since 1856 and it looks like it. Not only does the inside scream 19th century with its high ceiling and dark wood bar, the bartender uses only classic cocktail shakers to make all of his drinks.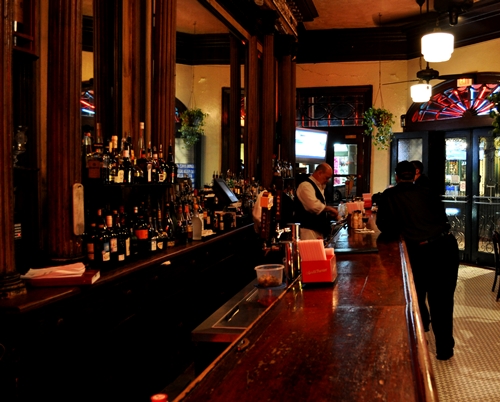 I can't tell you what Tujague's specialty cocktail is because when we asked Paul Gastings, the bartender, he told us there were about 70. So, we told him to just mix up his favorites. I got a Rockin' Rye Sazerac which he made with his own Rockin' Rye whiskey and G got a switchel, which is actually a cocktail from the 1750's. While the sazerac was a little strong for me, both drinks were awesome!
Here's the one thing about Tujague's. If you're going to visit, and you must, you need to get there before 10 pm during the week because they close when they feel like it. It could be 9 or it could be 2 in the morning. Also, be prepared to get an earful. While Paul had several entertaining stories including how he threatened to break a guy's fingers for snapping at him, I completely understand why Esquire called him "the crustiest bartender on earth".
The Carousel Bar is the only bar G and I visited that's located inside a hotel. Just like all the other bars in this list, the Carousel has been around for years. While it may be the newest bar of the group, it's still over 60 years old. What makes the Carousel so special? It's an actual carousel. That spins. It doesn't go too fast, so you can still enjoy your cocktail without getting sick, but the bar does make a full rotation every 15 minutes. That said, the drinks are delicious and the carousel is well worth a look – it's stunning.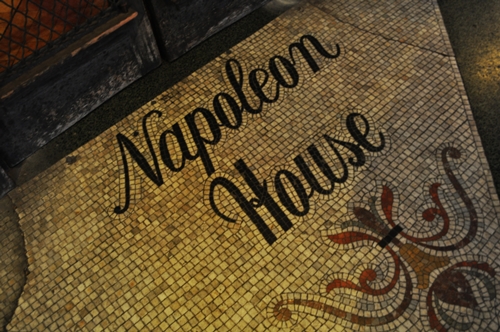 The last vintage bar on my list is Napoleon House which has been around since 1812. Although the building was originally owned by Nicholas Girod, the mayor of New Orleans, the Impastato family took it over in 1914 and converted it to a grocery store. It became a cafe and bar right before Prohibition and has been that way ever since. While they offer every cocktail under the sun, they're known for their Pimm's Cup and Sazerac.
As a matter of fact their sazerac is so amazing, it just won best Sazerac at this year's Tales of the Cocktail. And I can see why. After having several sazeracs from several different bars in the French Quarter, I can honestly tell you the one from Napoleon House was by far the best. It was sweet, delicious, and sooooooo smooth.
So, the next time I visit the French Quarter, I'm definitely going to take another ride on the Carousel, get a story or two from Paul over at Tujague's and have at least one sazerac at Napoleon House. I'd recommend you do the same.