Blueberry Bay Tart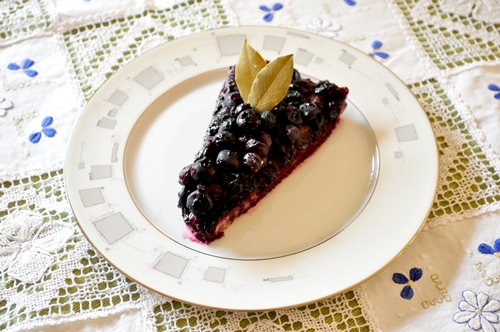 As you all know I love me my spices. I'm making savory things sweeter by adding cinnamon to everything from baked goods to my morning coffee to meat and potatoes. (Believe it or not cinnamon's a great addition to a meat or pork rub.) And I'm turning those sweet desserts into spicier morsels by adding basil to fruits and chocolate.
Since I'm such a big spice fan I love to participate in the monthly spice chat on Twitter sponsored by My Spice Sage. Every month a single spice is covered and new ideas and recipes are bandied about for an hour. I always come away from the chat with at least one new recipe and usually several ideas for other things to try.
This month was no different. We covered bay leaves and up until the chat, I thought bay leaves were pretty much reserved for stews, soups, and slow cookers. As usual I couldn't have been more wrong. Turns out (as I'm discovering more and more) spices turn those sweet fruits we love so much into something savory. Add a little basil to your watermelon for a wonderful salad or macerate your strawberries with it and pour over ice cream for a delectable dessert. The bay leaf is no different.
Several people from the chat recommended pairing the herb with blueberries for a nice jam. Since I'd never considered using the herb with fruit before I was very intrigued. The food-making part of my brain started to percolate and I knew I was going to have to create something combining these two flavors. But it wasn't going to be jam as I'm not a jam maker… at least not yet. I am, however, a cookie and pie maker, so I thought a blueberry bay tart would be awesome.
It was. The bay leaf added a nice smoky flavor that when combined with the blueberry and lemon made the whole tart feel like autumn had come early. And since blueberries seem to be available year round, this sweet treat doesn't need to be reserved for spring or summer anymore. Simply adding a few bay leaves will make this spring dessert feel right at home at your winter feast.
Blueberry Bay Tart
1/2 cup butter
1-1/2 cups flour
1-1/2 cup sugar, divided
1 egg, divided
3 bay leaves
5 cups fresh or frozen blueberries
2 tablespoons lemon juice
Preheat oven to 375°F.
Combine butter, flour, 1/2 cup sugar and egg yolk (save the white for later) in a food processor and pulse until well mixed and crumbly. Place dough in a resealable bag and chill in the fridge for 20 minutes.
Pat dough in a tart pan making sure to go up the sides. Pour the egg white over the crust and spill off the excess. Chill crust for another 20 minutes in the refrigerator.
While the crust chills, place 1 cup of sugar and bay leaves into a clean food processor and pulse until the bay leaves are minced into the sugar. Pour into a large bowl. Add the berries and lemon juice to the bowl and toss with your hands until berries are covered in bay sugar and lemon juice.
Pull crust out of the refrigerator and pour berry mixture into crust, mounding the berries in the center. Place the pie on a baking sheet to catch any drips. Bake for 40-45 minutes. Let cool for 10 minutes, then serve.