Cheesecake-Stuffed Peaches for Rosh Hashanah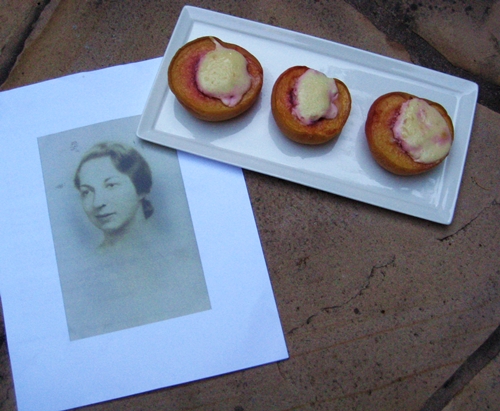 This should have been a post about apples since Rosh Hashanah began last night and apples are the fruit of the holiday. This should have been a happy post about new beginnings, the book of life and all things sweet. This post should have been a lot of things…  But now it's not going to be any of them.
Last Saturday all those happy, new beginnings turned into shocking, tragic endings when my nana of 97 years died unexpectedly of heart failure. She'd broken her hip the week before and went in for surgery. My grandmother was never a fan of hospitals, but she knew, as we all did, that this was something that wouldn't mend without outside help. She came through the surgery fine, but when you're elderly sometimes things just happen.
Born in 1914, she lived through two world wars, the Prohibition, the Depression, the assassination of a president and 9/11. She was a world traveler and had impeccable taste in clothes. As a matter of fact, I got my nose for a good bargain from my mother who got it from her mother who never, ever bought retail. Her clothes were always either made for her or  purchased at Filene's Basement, the original discount store. Although my nana definitely did things her own way and had her own opinions about everything from food to clothing she was always there for family. She loved each and every one of us and was there whenever we needed her.
Because we lived on the west coast and she spent most of her life in Swampscott, Mass, I only got to see her twice a year. She'd always come for a week or so and we'd do everything from go to museums to visit movies to go out for ice cream since that was her favorite dessert. We always had fun when she was here and were always sad to see her go. I'm sure Nana is where the emotional streak in our family comes from. See, every time we'd take her to the airport saying good-bye was never simple. What should have been a quick hug and a kiss with a promise of more to come in a few months, turned into a tear fest, the kind of which you've never seen. After years of witnessing this display of emotion I finally understand why I, and every other female member of my family cries at Hallmark commercials or animated movies like The Fox and the Hound. It's clearly hereditary.
While I wasn't super close with her, I loved her all the same. She was the only grandmother I ever knew and I cherished every moment I got to spend with her. I'm sorry I wasn't there with her at the end, but I'll always remember the way she smiled, the way she was always dressed to the nines even when it was just coming over for a casual dinner and the way she lit up every time she saw A. I'm sorry he won't get to know his GG, but at least he knew her for a little while.  We'll miss you, Nana. We love you and in honor of you and your 97 wonderful years, some peaches filled with a little cheesecake.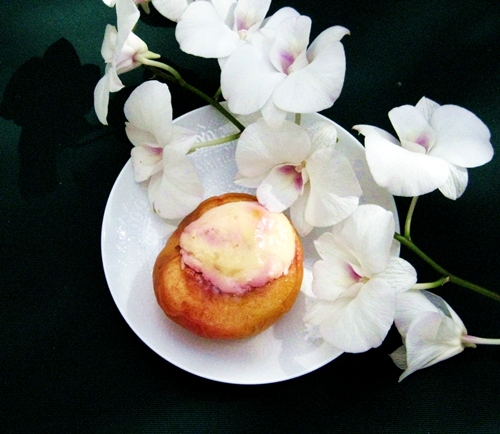 Cheesecake-Stuffed Peaches
10 peaches, halved and pitted
1/2 cup (1 stick) butter melted
3 tablespoons cinnamon sugar
1 (8 ounce) package cream cheese, softened
1/4 cup sugar
1 egg yolk
1 teaspoon vanilla
Directions
Preheat oven to 350° F.  Line a 15x10x1 inch baking sheet with parchment paper and set aside.
Trim a very thin slice from the round side of each half of peach so the halves stand flat on the baking sheet. Dip the peach halves in melted butter to coat. (Don't worry if the butter congeals while sitting on the baking sheet, it'll cook up nice once they're in the oven.) Arrange peach halves, cut side up, in prepared pan. Sprinkle cut sides of peaches with cinnamon sugar; set aside.
In a medium mixing bowl, beat cream cheese with a mixer until smooth. Add sugar, egg yolk and vanilla and mix until combined. Spoon cream cheese mixture into peach centers.
Bake, uncovered, about 30 minutes or until lightly browned and softened. Serve warm or at room temperature. They're also delicious cold the next day. But if you're serving them the next day, keep them covered in the refrigerator.