Apple Spice Cake with Cranberry Glaze
It's November and that means two things to me: Thanksgiving and cranberries. This is one of my favorite months because I can finally head to my local grocery store and stock up on those delicious berries that seem to be available for only a few short weeks. I stock up because this is when I put cranberries in just about everything from muffins to cakes to pies, not to mention the tons of different sauces needed for Turkey Day.
Since I'll be making a ton of cakes, cookies and muffins during the upcoming weeks, there's one other ingredient I'll need tons of: butter. When I bake there's only one butter I use and that's Kerrygold.  I like Kerrygold because not only do their cows roam freely eating healthy doses of grass, they refuse to use any hormones. That means the butter is pure, rich deliciousness, the perfect base for any cookie, cake or frosting. So you can imagine my excited delight when Kerrygold contacted me to try their new spreadable butters. I couldn't believe it. I was no longer limited to using their butter in baking, now I could easily grab a knifeful and spread it on my morning bagel.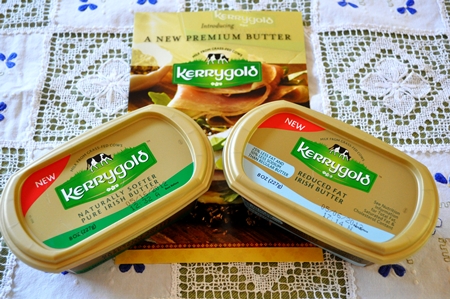 But since I'm a baker, I wasn't simply going to use their butter on my toast. I mean, don't get me wrong, it's awesome on bread since it has the same rich butter flavor I've come to know and love over the years. But the company wanted me to participate in a contest to come up with other ways to use the spread, like whisking it up with some maple syrup for a delicious maple butter to put on pancakes or waffles. And while maple butter is delicious, I wanted to try something that would fit with this holiday season. So, I used their Naturally Softer Pure Irish Butter to make a cinnamon butter to sauté apples in for a cake. Then I used their Reduced Fat Butter to make a cranberry glaze to go over it.
Now if you're thinking, like I was, that reduced fat butter means margarine, it doesn't. Kerrygold has made sure the only difference between their Reduced Fat Butter and their regular butter is less fat and less sodium. They do not add any extra oils or additives to make it lower in fat. They just cut out 50% of the salt and 25% of the fat. The one thing they didn't cut out was taste which is why it made the perfect glaze. I mean, why use the fattening regular butter when I could easily use the reduced fat stuff and have the same delicious taste that would spread across my cake like silk?
You're probably wondering why I'd sauté the apples in a cinnamon butter rather than just adding cinnamon to the batter. Simple, this way, I'd get an extra dose of melted butter in the batter and since the apples were sautéed in the cinnamon, the fruit as well as the batter would have that spicy cinnamon flavor all through it, making it a classic spice cake, perfect for an autumn morning, afternoon or evening.
Apple Spice Cake with Cranberry Glaze
For Cake
2 oz Kerrygold Naturally Soft Butter
1-1/2 Tbsp cinnamon
1/2 cup (1 stick) butter
1 cup sugar
1/2 cup brown sugar
2 eggs
1 tsp vanilla
1/2 cups Greek yogurt
1 cup pastry flour
1/2 cup all-purpose flour
1 tsp baking soda
1/2 tsp salt
3 apples, peeled, cored and chopped (I like Pink Lady or Gala)
Preheat the oven to 350°F. Grease and flour a 9-inch springform pan and set aside.
In a small bowl whisk together the cinnamon and Kerrygold soft butter until well combined; chill.
In a large bowl mix together the butter, sugar and brown sugar until light and creamy, about 2 minutes. Add the eggs, one at a time, beating well after each addition. Mix in the vanilla and yogurt until combined, about 1 minute.
Sift together the flours, baking soda and salt in a medium bowl. Gradually add flour mixture to creamed mixture until just combined.
In batches, melt the cinnamon-butter in a large skillet over medium-high heat. Add the apples and sauté until tender but not mushy, about 4 minutes. Fold the sautéed apples into the batter. Pour the batter into the prepared pan and bake for 1 hour and 5 minutes, or until golden brown and a toothpick, when inserted, comes out clean.
Let cool completely on a wire rack. Once cake is cool serve plain or frosted with cranberry glaze.
For Cranberry Glaze
10 oz fresh or frozen cranberries, washed and dried
1 cup sugar
1/3 cup water
1 cinnamon stick
1 tsp allspice
4 oz Kerrygold Reduced Fat Butter
In a medium saucepan combine the cranberries, sugar and water. Bring to a boil over medium-high heat. Reduce to a simmer and add cinnamon stick and allspice. Stir to blend and let cook for 10 minutes or until cranberries have burst and sauce has thickened slightly.
Remove from heat. Remove cinnamon stick. Using an immersion hand blender, blend the cranberries until the sauce is smooth. Let cool.
In a mixing bowl, beat together the butter and 2-1/2 cups of cranberry sauce until well blended.
Using a spatula, frost the apple spice cake with the cranberry glaze.