Midnight Milky Way Pudding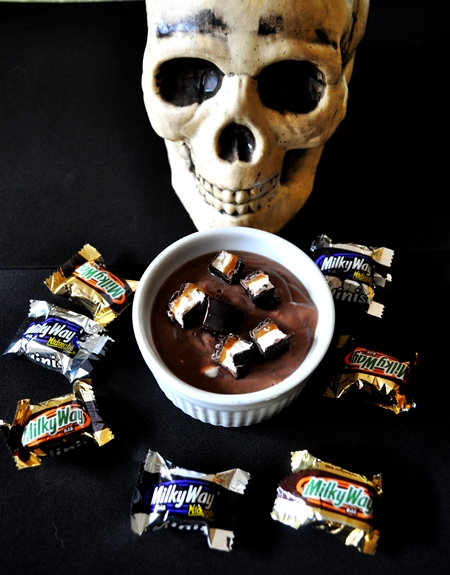 Halloween is one of my favorite times of year. Yes, I'm (technically) too old to go trick or treating and get free candy, but thankfully I have A, who's now two and a half and can do it for me. Then as his mom, I have the pleasure of going through his candy and weeding out my favorites the bad stuff. But of course that means there's always a ton left over. Too much for even me my little boy to gobble up. So what can you do with it?
There are several options. You could take it to work and pawn it off on your co-workers, cause god knows they're not getting enough candy. Of if you're lucky enough to have a business near you who's sending the sweets to the soldiers over seas you could drop off your extras there. But the best option of all, especially if you're a foodie like me, is to turn that candy into a luscious dessert.
Take those M&M's and make a batch of candy-coated cookies instead of the standard chocolate chip. Chop up those Hersey's chocolate bars and sprinkle them on top of ice cream or cake. But my favorite idea came from All You Magazine. They suggested making a decadent chocolate pudding out of Milky Way bars.
I love pudding. While chocolate is by far my favorite, I'll happily take vanilla or even tapioca if served. So when I saw this recipe for a chocolate pudding with a kick of dark chocolate and caramel, I knew I had to give it a go. It was delicious, super easy (it only took 20 minutes not including chill time), and a perfect way to use up some of that extra candy. I now not only want to do this every year, I want to try it with 3 Musketeers bars, regular Milky Ways, and maybe even those Hershey's Special Darks. I bet they'll all be amazing.  Even better, the kids will have a blast turning that same old Halloween candy into something really special.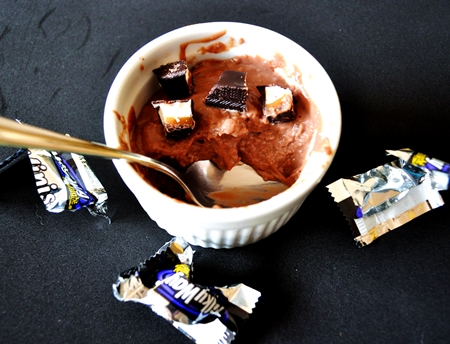 Midnight Milky Way Pudding
1/3 cup sugar
3 Tbsp cornstarch
1 Tbsp unsweetened cocoa
dash of salt
2 cups low-fat milk
3 egg yolks
2 Tbsp unsalted butter, cut into small pieces
2 tsp vanilla
2 cups (about 10 ounces) Milky Way Midnight bars, chopped
Combine the sugar, cornstarch, cocoa and salt in a large saucepan. Slowly whisk in the milk. Bring to a boil over medium-high heat, whisking. Boil for 1 minute.
In a medium bowl, whisk the yolks to blend. Whisking constantly, slowly pour half the hot milk mixture into the yolks. Whisk vigorously and pour the yolk mixture back into the pan. Bring back to a boil and cook, whisking constantly, until thickened, about 1 minute.
Remove the pan from heat and stir in the butter and vanilla. Stir 1-1/2 cups of Milky Way bars into pudding until completely melted. Pour into four ramekins.
Cover with plastic wrap and chill in the refrigerator until set, at least 2 hours or overnight. Just before serving, sprinkle with remaining chopped Milky Ways.