Black Forest Brownies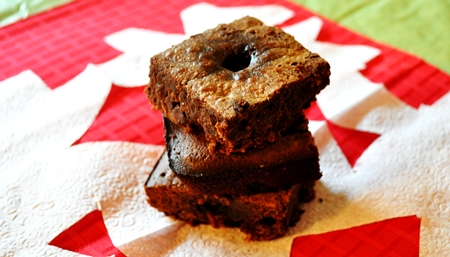 I've always been a huge fan of chocolate and cherries or any combination thereof. My favorite sweet? Chocolate covered cherries. They're soooo good. There's just nothing in the world that beats them, especially if it's a deep, rich dark chocolate in which the cherry has been dipped.
So, since I'm such a huge fan of chocolate and cherries, you'll probably find it weird that I hate Black Forest Cake. I'm not sure why, maybe it's the fake cherry taste, the gooey overly sweet cherry filling or the way-too-sweet whipped cream. Whatever the case I am absolutely not a fan.
But because I really love chocolate and cherries, I thought maybe there was a way to take that cake I hate so much and turn it into a brownie I could fall in love with. And there was: simply take my favorite brownie recipe, add some cherry wine and a ton of bing cherries.
To my thrilled surprise, it worked! Those brownies were just what I was craving: moist, chocolatey goodness with just a hint of cherry. And the best news is there was no sicky sweet whipped cream or cherry jelly. It's the perfect dessert for this holiday season… or any other time of the year you're craving chocolate and cherries.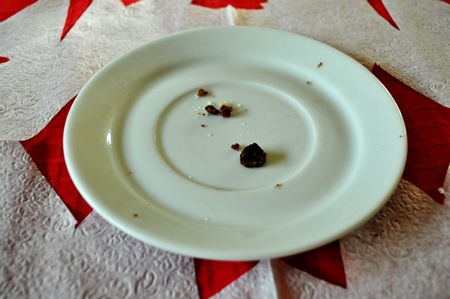 Black Forest Brownies
Ingredients
1 cup of butter (2 sticks)
4 squares of unsweetened chocolate
1-1/2 cups of sugar
4 eggs
1 cup of flour
1 tsp vanilla
2 tablespoons cherry wine
1 cup semi-sweet chocolate chips
2 cups fresh or frozen bing cherries, pitted
Directions
Preheat oven to 350°F.
Melt the butter and chocolate in a small pan over a low flame, stirring occasionally, until chocolate and butter are completely melted, about 5 minutes.  Pour the melted butter and chocolate into a mixing bowl and gradually beat in the sugar.  Beat in the eggs one at a time.  Add the vanilla and cherry wine.
Gradually mix in the flour.  Then fold in the semi-sweet chocolate chips.
Pour the batter into a greased 9×13 pan and place the cherries evenly over the top of the batter. Bake for 45 minutes. (I like my brownies really fudgy so I only cook them for 40 minutes.) Let them cool in the pan for 10 minutes before cutting.  Makes about 20 brownies.