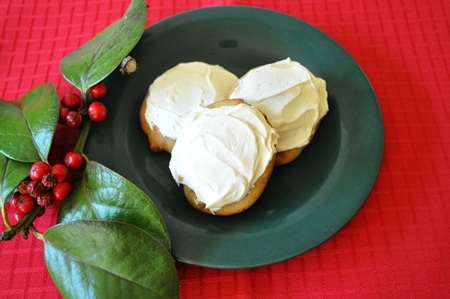 It's the holidays and that means I'm doing a lot of cooking, and not just savory dishes, I'm baking plenty of sweet things as well. During this time of year I'm always baking cookies and bars of all shapes and sizes. While I usually stick to my favorites like Chocolate Mint Cookies or Chocoholic's Brownies, every year I try and make something new and exciting. Sometimes I'm successful and sometimes… not so much. Last year I made Sweet Potato Marshmallow Bars with White Chocolate Chips.  But this year, I decided to make something that wasn't quite as sweet, something that would go perfectly with a steaming cup of spiced cider or hot buttered rum.
Fortunately I didn't have to look very far for my inspiration, Better Homes and Gardens had a recipe for Frosted Butterscotch cookies that sounded perfect: not too sweet and ideal for this festive season. But I wasn't wild about the browned butter frosting so instead I opted for Tidy Mom's Buttercream Eggnog Frosting. It was the perfect combo. The simple cake like cookie topped with the wonderfully sweet (and spiked of course) eggnog frosting – the ideal cookie for the holidays.  But what made this cookie baking experience especially sweet was I got to use my new OXO "be a good cookie" spatula.
I love OXO products. As a matter of fact whenever anyone asks about a cooking utensil they should get, I always, always recommend OXO's products. They're easy to handle, usually dishwasher safe and last forever. So when they asked that I give their new spatula a try, I welcomed that wonderful little cooking tool with open arms. And when I say little, I'm not kidding. This adorable spatula is the perfect size for scooping up hot cookies off your cookie sheet, and the rounded edges make it even easier to squeeze between those mounds of dough that may have expanded more than you expected in the oven. But what makes this spatula truly special is that half of all the proceeds received from every purchased spatula goes towards pediatric cancer research.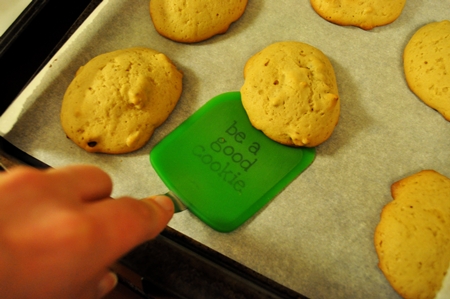 As someone who's whole paternal side of the family (save my father and his brother) has died of some form of cancer or another, this is a program that is important to me. The only way we're going to find a cure for this horrible disease is from research. So I believe every dollar put toward that cause is a dollar well spent. And if you can spend it buying the perfect cookie spatula, why wouldn't you?
But if you're already spent out this season with all the gift buying (and seriously, who isn't) don't worry, you can still get this awesome cooking tool. How? Well, because not only were the OXO folk nice enough to send me a spatula, they sent along an extra for me to giveaway to one lucky reader.  But I'm going a step further since it's the holiday season.  Because I love OXO products so much, and the color of the month is red and green, I'm going to give away two of their wonderful rubber spatulas, one red and one white. The white one's rounded and concave so you can scoop while stirring, perfect for folding things like chocolate chips or nuts into your cookies. The red spatula is your basic scraping rubber spatula, perfect for scraping the sides of your mixing bows. I use both every single time I bake and couldn't imagine making cookies, cakes or frosting without them.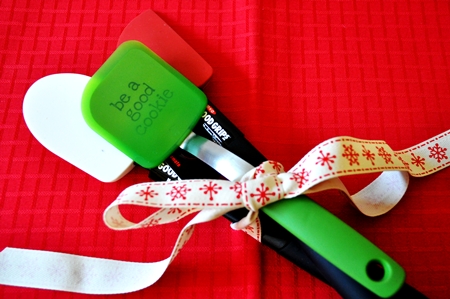 Here's how you win: (Main entry required) THIS GIVEAWAY IS NOW CLOSED.
Go to OXO's site and peruse all their amazing cooking utensils.  Then come back here and tell me what you absolutely must have (other than the items shown here) to make your baking dreams come true.
Want extra entries?
Each item you do will get you one chance to win (for a total of five chances). If you already do any of these things they do count! So make sure to leave a separate comment for each item.
Go like OXO on Facebook.
Go like Kitchy Cooking on Facebook.
Follow @kitchycooker on twitter and tweet the following statement:   I just entered to win a "be a good cookie" spatula from @kitchycooker and OXO. Have you?  http://bit.ly/tXWzTT
Subscribe to the Kitchy Cooking RSS feed.
The Fine Print
This giveaway is only open to residents of the 50 United States.
Giveaway will end on December 28, 2011 at 6 pm PST. One winner with a valid entry will be chosen via a random number generator at random.org.  The winner will then be notified via the e-mail they provide when they leave a comment.
Winner has until January 3rd at 6 pm PST to claim their prize or I'll pick another winner.
Now that I've laid out all the nitty gritty details, here's what you've all been waiting for – the recipe for these yummy Butterscotch cookies with eggnog buttercream frosting.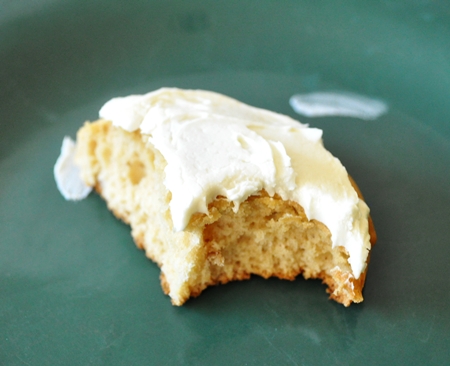 Butterscotch Cookies with Eggnog Buttercream Frosting
For the cookies:
Ingredients:
1-1/2 cups brown sugar
1/2 cup shortening
1 tsp baking soda
1/2 tsp baking powder
1/2 tsp salt
2 eggs
1 tsp vanilla
2-1/2 cups flour
1 (8 ounce) carton sour cream
2/3 cup chopped walnuts (optional)
Directions:
Heat oven to 375°F and line 2 cookie sheets with parchment paper; set aside.
In a large bowl, beat the brown sugar and shortening with an electric mixer until combined. Add the eggs and vanilla and beat until combined. Alternately add the flour and sour cream, beating well after each addition. Stir in the walnuts if you're using them.
Drop dough by rounded teaspoon 2 inches apart onto prepared cookie sheets. Bake for 12-15 minutes or until the edges are lightly browned. Transfer cookies to a wire rack and let cool completely.
Spread the cookies with Eggnog Buttercream Frosting and serve.
For the Frosting:
Ingredients:
2 cups powdered sugar
1/3 cup shortening
1/3 cup eggnog (or you can use commercial eggnog)
2 tsp rum (only if you're using virgin eggnog)
Directions:
In a mixing bowl beat together the powdered sugar and shortening until well combined.
Gradually beat in the eggnog and rum until frosting is smooth.